Mark Hughes has tipped Ryan Shawcross to earn England recall
Stoke City boss Mark Hughes firmly believes that his captain Ryan Shawcross can become a fixture in the England squad.
Last Updated: 05/10/13 12:09pm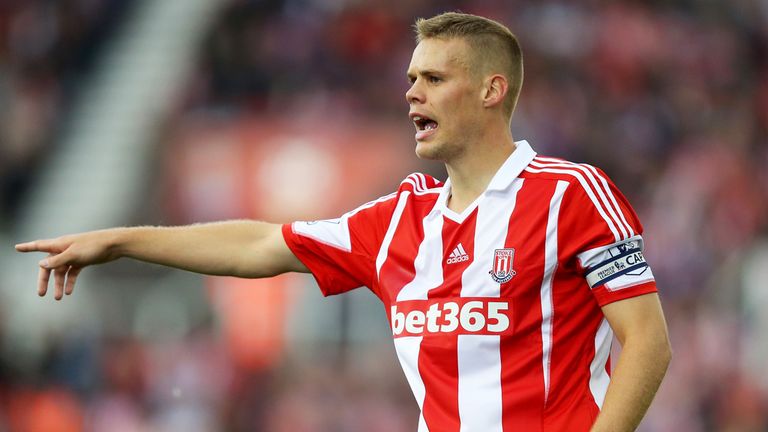 Shawcross made his debut against Sweden last November, but has not played again since for Roy Hodgson's side.
But despite having a tough time in his first game against the likes of Zlatan Ibrahimovic - Hughes feels Shawcross is more than capable of winning back his England place.
"Maybe he has to change the perception of him in the eyes of others," Hughes told the Daily Mirror.
"The view of Ryan is shaped by how he was asked to play in the past but he certainly has ability and I think he is showing that.
"Ryan has shown an improvement in getting on the ball in the time we have been working with him.
"I think he hasn't progressed as much as he would have liked in the international arena because people haven't been able to see that in his play before.
"That was because he wasn't asked to play that way. He has the ability to play, pass and move and get the ball out from the back.
"The longer the season goes on and people understand that more, or come and see it first-hand then he will have a chance.
"I think England is something he wants to get involved in and if he keeps his performances high at some point England will come and have a look, I'm sure.
"What Ryan has to do is continue to play as well as he has been for the rest of the season.
"He has probably surprised people in terms of his ability with the ball on the floor.
"In terms of his level of performance. He is showing good levels of consistent performance and that is what you have to do to get people to sit up and take notice.
"He played in one international against Sweden and he was thrown into the mix when Ibrahimovic was on fire and maybe that might be part of it."