Jack Butland to captain England U21s against San Marino on Thursday
On-loan Barnsley goalkeeper Jack Butland will captain the England U21 side for their upcoming matches.
Last Updated: 08/10/13 6:53pm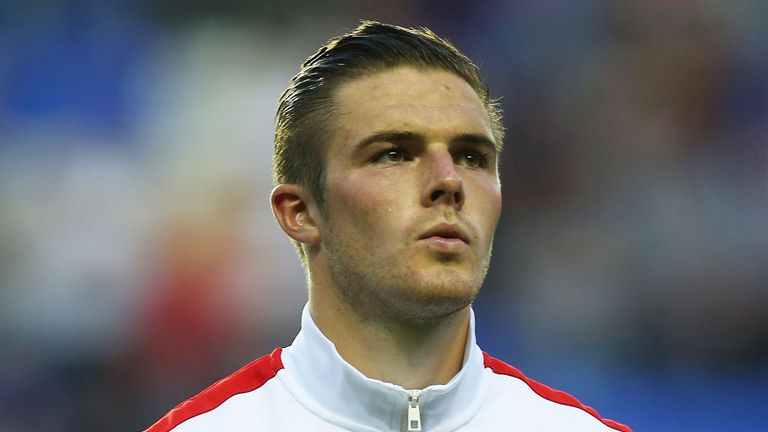 The Stoke man will replace Liverpool defender Andre Wisdom, who was handed a four-match ban after he was red-carded for kicking Tim Vayrynen during last month's 1-1 draw in Finland.
He will therefore miss the upcoming European Championship qualifiers against San Marino and Lithuania, as well as the clashes with Finland and San Marino again next month.
"Jack Butland will be captain," said Southgate. "First and foremost, his professionalism and his standing within the group is very high.
"He is our most experienced player, he has obviously played for the seniors, and, around the squad, I think he is a very good influence.
"He connects well with all of the squad and I think that is important."
Southgate also revealed that he had been to visit Wisdom since the sending-off in order to reassure the player.
"I went to see him because I think it was important that he realised we are supportive of him," said Southgate.
"But, for all of us in the squad, it was a lesson to learn that, in European football, games are refereed differently and keeping control is important.
"Andre suffered a harsh lesson because it is a four-game ban and it is one which we as a squad must take on board."
Shelvey and Wickham miss out
Swansea's Jonjo Shelvey and Sunderland striker Connor Wickham have both been left out of Southgate's squad.
And the manager explained: "I know enough about Jonjo, I wanted to look at some different players.
"There is a fair chance that, if we went to a tournament in two years' time, he might be involved at a more senior level.
"Also, he has had a lot of matches going back to pre-season, when Swansea were in Europe.
"With midfield and out wide, it is dangerous to say, but I have an embarrassment of riches, really.
"Some of the younger ones I want to have a look at, because I think they are more likely to be involved going towards a tournament and I would like to bed them in now.
"Connor was not able to report last time and hasn't really played any football since. It is as simple as that, really.
"Danny Ings is scoring regularly at Burnley and has been in outstanding form, and Nick Powell at Wigan is the same.
"Danny is the addition, if you like, and I just felt his form justified that, but we know about Connor from seeing him play in the younger age groups.
"At the moment, he has not really been able to play first-team football, or anything underneath that."