World Cup qualifiers: Arsenal's Aaron Ramsey will captain Wales against Macedonia
Aaron Ramsey is expected to be fit to line up for Wales in Friday night's World Cup qualifier at home to Macedonia.
Last Updated: 11/10/13 7:09pm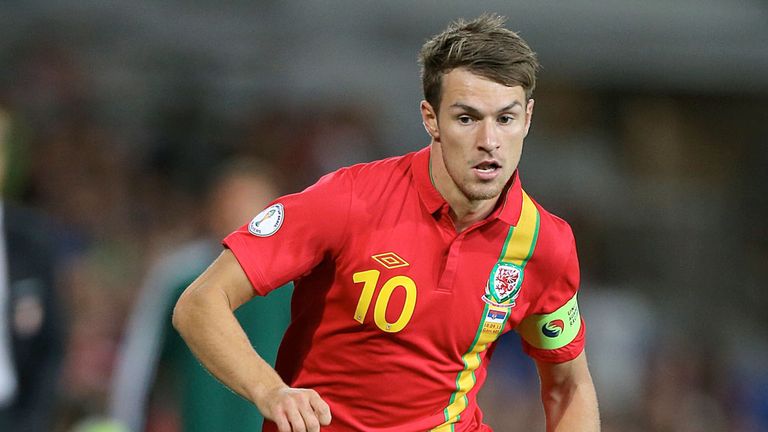 And the in-form Arsenal midfielder will skipper the side for the second match in succession, with regular captain Ashley Williams having been sidelined by an ankle problem.
Regarding the decision to make Ramsey his captain, manager Chris Coleman said on Thursday: "It was not a difficult decision to make, with the way he has been playing this season.
"He has got a knock, he came off for Arsenal at the weekend with a dead leg, and we have been managing that.
"He will not train today but we expect him to be available for Friday night."
With regard to Williams, Coleman added: "We scanned him and it was clear he could not play.
"(Swansea boss) Michael Laudrup said he had him on the bench at Southampton just as a number and, looking at the injury, I can see that he was never going to play.
"But it was good to have him here and take a look for ourselves. I am not sure whether he will be back for the next two or three games after this international camp."
Collins
West Ham defender James Collins is likely to start at Cardiff City Stadium, having settled his differences with Coleman.
The two were in dispute over whether Collins had rejected a chance to link up with the squad last month but have resolved the matter after face-to-face talks on Wednesday.
Coleman said: "James called me when he finished training with West Ham. We had a chat on the phone but the chat we needed to have was across the table.
"He travelled down here, fair play to him, and he told me where he was coming from. I told him where I was coming from and I have been public in what I have said.
"He thought he was being singled out, which he wasn't. I explained my reasons and he accepted that.
"He is here for a huge game and that is all we can ask. It doesn't mean we agree on everything, but the important thing is to move forward, and we can.
"He has his desire to play for Wales. If he didn't want to play he would not have travelled to talk to me and thrash it out.
"When we talked we weren't having a cuddle or a laugh and a joke but he was here and we told each other what was on our minds."
You can watch Wales v Macedonia on Sky Sports 3 HD from 19.30