World Cup qualifiers: Poland striker Robert Lewandowski warns England
Robert Lewandowski has warned that Poland will be no pushovers for England in Tuesday's crucial World Cup qualifier.
Last Updated: 13/10/13 10:01am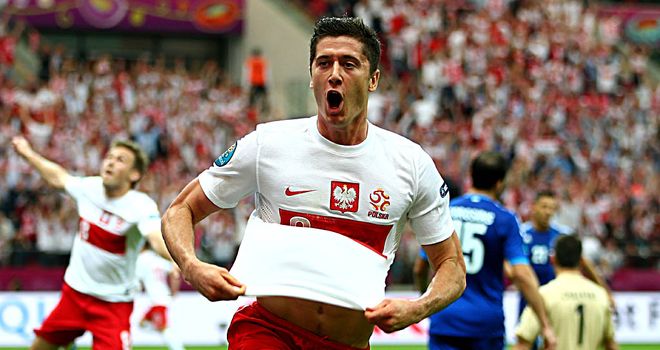 The Poles were left devastated by a 1-0 defeat away to Ukraine on Friday, ending their hopes of qualifying for the 2014 finals in Brazil next summer.
But a trip to Wembley holds substantial appeal under any circumstances for the team coached by Waldemar Fornalik, and Lewandowski is determined they do not waste their journey.
England need to win to finish top of the group and reach Brazil 2014 automatically, given second-placed Ukraine take on minnows San Marino, and Poland have nothing but pride to play for.
That pride could be a factor though, with thousands of Polish fans expected at Wembley and the visiting team eager to cause an upset.
"We go to England now," said Lewandowski, Borussia Dortmund's Bayern Munich-bound striker.
"We know we have a lot of fans out there who will come to the game. We don't stand a chance of going through, but we want to go to Wembley and at least allow our supporters a little fun. For sure we won't be favourites."
Poland captain Jakub Blaszczykowski added: "It doesn't matter that we only have honour to play for. Matches at Wembley are always very important to us.
"There are sure to be many Polish fans there, and we want to thank them with a good game and the right result."
Lewandowski, one of Europe's most-feared strikers, has been troubled by Poland's failings in their Group H campaign.
"Sometimes I wonder exactly what we are missing," Lewandowski said, according to Polish sports newspaper Przeglad Sportowy.
"I am thinking in particular of a few draws in the matches we should be winning. There are moments when it seems that everything is going in the right direction.
"I don't have the right word about what should be changed. Against Ukraine it seemed that we created more chances and we played well, but it is not important. In qualification, victories and points are the most important things, not the style of play."
Fornalik is coming to the end of his contract, with media speculation he could be replaced by Dick Advocaat, the former Holland and Russia boss who retired from club management after spending last season at PSV Eindhoven.
Wembley could be Fornalik's last stand, and he is eyeing a famous result.
"This will be our main goal. We would like to cause a surprise," he said. "It is too early to talk about the future."
Southampton goalkeeper Artur Boruc believes Poland remain a strong team, and the Premier League player is relishing a Wembley trip.
"We look more and more solid, despite failing to qualify," Boruc said, according to sport.pl.
"I won't cry over spilled milk. We have to get up, we have a very nice match on Tuesday."