Arsenal's Alex Oxlade-Chamberlain ready to fight for place for club and country
Alex Oxlade-Chamberlain has admitted that he faces a big challenge to regain his spot for Arsenal and England.
Last Updated: 25/10/13 5:28pm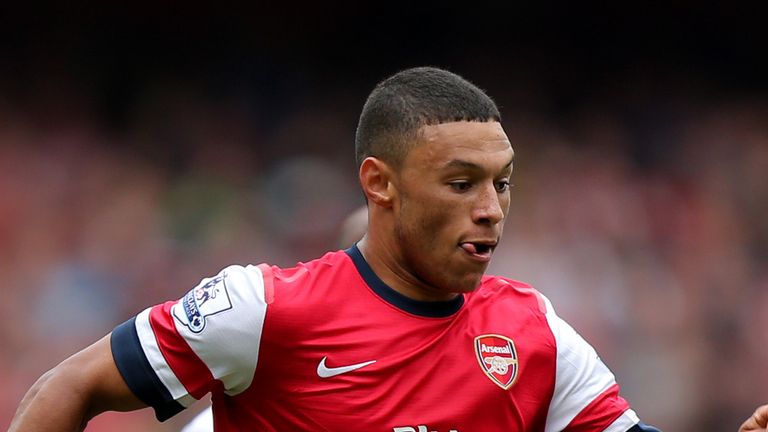 Oxlade-Chamberlain limped out of Arsenal's 3-1 home defeat by Aston Villa on the opening day of the season with a knee injury and is not expected to return to action until late next month.
While he has been sidelined, the midfielder has witnessed the Gunners go seven games unbeaten in the Premier League to surge to the top of the standings.
Arsene Wenger has a wealth of options and Oxlade-Chamberlain accepts that it will be tough to get back in, but he is relishing the competition for places.
"Things can change quickly in football. When you're at a great club like Arsenal, which has the strength in depth it has, you know you've got to raise your levels to stand a chance of playing," the 20-year-old told The Sun.
"If you look at us now, if everyone was fit we'd have an unbelievably strong squad and it will be a huge challenge to get back in the team.
"But I'm confident in my ability so, when I get the chance, I will have to take it."
Oxlade-Chamberlain has also seen England qualify for the World Cup with impressive victories over Montenegro and Poland, and he is itching to play in Brazil.
However, the emergence of Tottenham Hotspur winger Andros Townsend has left Oxlade-Chamberlain fully aware that he will need to work extremely hard to make the final squad.
"To see that on his debut was a real eye-opener and it has given us another dimension. He's made it hard for every other attacking player in that position to get in, not just me," said the Arsenal player.
"Competition has gone up again but you can't feel frustrated. If you think like that, you start losing focus.
"I know what I need to be doing to be in the squad and it's the same at Arsenal."
Oxlade-Chamberlain's immediate focus is on regaining fitness and then helping the Gunners challenge for the Premier League title.
He added: "Ever since I've been at Arsenal we've seen ourselves as title contenders but, most times before, we haven't got off to such good starts.
"The thing is to be up there as quickly as possible and stay there for as long as possible - hopefully right to the end."