Swansea duo Leon Britton and Neil Taylor ready for south Wales derby against Cardiff
Leon Britton is expecting a 'great occasion' when Swansea and Cardiff meet in the Premier League for the first time.
Last Updated: 04/11/13 9:16pm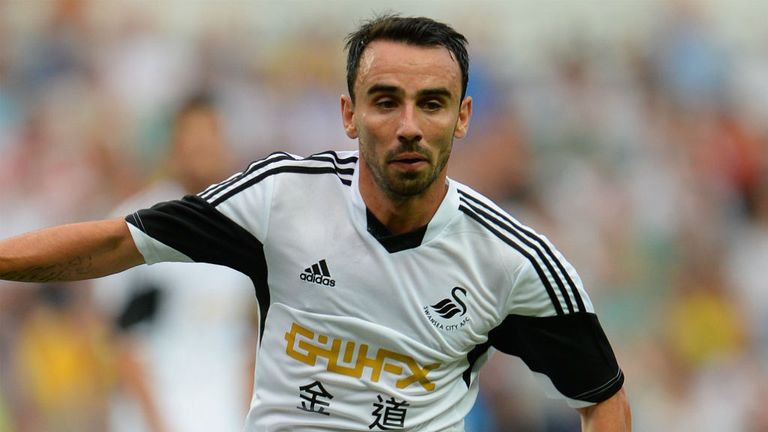 Sunday's south Wales derby at the Cardiff City Stadium is the first at the home of the Bluebirds since November 2010 when Marvin Emnes scored the only goal for Swansea.
Britton believes the game will be an advert for Welsh football and the Swansea midfielder is hoping to come out on the winning side.
"We're looking forward to the derby," said Britton in the South Wales Evening Post. "It will be a great occasion and should be a fantastic game.
"We've had great games, great wins and fantastic memories. We've had some horrible ones as well. They are great days but only when you win. Equally it's a bad day when you lose.
"It's very different. It's like a cup final. Sometimes it's crazy. It can be hard to control the game as it is so fast and furious at times. But they are great occasions to be involved in with great atmospheres.
"It's great for Welsh football that the derby is in the Premier League.
"The first one is on Sunday, but we want that to carry on for the next five to ten years and have both clubs in the Premier League because it is fantastic for the young kids and fans to watch and support their local team rather than the big clubs like Man Utd and Liverpool."
Swansea left-back Neil Taylor is also relishing the game and believes it is a measure of how far the two clubs have progressed in recent seasons.
Taylor told the club's official website: "It is a proud day for Welsh football. We have two clubs in the biggest league in the world. This is a day that should be celebrated because two Welsh teams are playing each other in the Premier League.
"The rivalry is still there, of course it is, but the fact this game is taking place in the Premier League is a major positive for Wales and shows how far the clubs have come in the last few years.
"It would be wrong to say it's a normal game, because it isn't. Every game in the Premier League is big, but this one more so."