Saluting Sturridge
Daniel Sturridge is on fire for Liverpool and leads the Premier League scoring charts but why is he not receiving more recognition, asks Sam Drury
Last Updated: 29/10/13 10:38am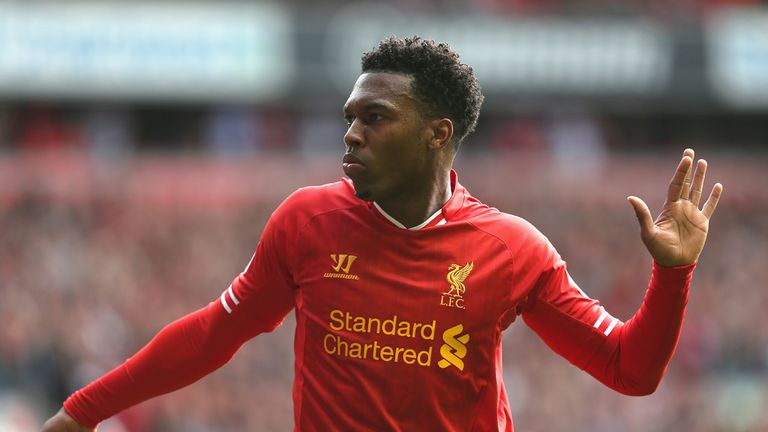 With little under 15 minutes to go at Anfield on Saturday, Liverpool were cruising to a comfortable win over West Bromwich Albion. It had been an impressive showing from Brendan Rodgers' side and a hat-trick of the highest quality from Luis Suarez meant they led 3-1. The Uruguayan was already assured of the headlines but his strike partner was determined to have his say, too.
When Daniel Sturridge picked up the ball 35 yards out, it seemed there was relatively little danger. The England forward continued to drive forward, moving towards the left-hand side of the penalty area, Steven Gerrard burst past on the outside, Suarez was lurking in the centre. Their presence was of little consequence to Sturridge as, from 20 yards out, and with West Brom goalkeeper Boaz Myhill approximately half-a-yard off his line, he opted to go for the most unlikely of chips.
As the ball dropped over the helpless Myhill and into the back of The Kop net, Sturridge proceeded to celebrate with his trademark, albeit slightly questionable, dance. He had the final say yet again and had gone another step closer to confirming himself as one of the league's premier frontmen.
It is something the former Manchester City and Chelsea player has slowly been going about doing since his move to Merseyside in January 2013. Sir Alex Ferguson described Liverpool's decision to fork out £12million for the then 23-year-old as 'a bit of a gamble'. However, 21 goals in 27 games for Liverpool show, if it was, it has more than paid off already.
Indeed, right now the Birmingham-born player is looking like a bargain. Liverpool picked up Sturridge and Philippe Coutinho for a combined £20m in last year's mid-season window, arguably dispelling the myth that there is no value to be had in the January market. Both came with points to prove but whilst the Brazilian has rightly been acknowledged as one of the league's best young players, his English team-mate is still struggling to get the acclaim his goalscoring record deserves.
This season alone, the striker has eight league goals in just nine matches with 10 in 11 games overall. By comparison Robin van Persie has five in eight, two of which have been penalties, whilst Sergio Aguero has netted seven in eight. It is clear Sturridge's record more than matches up to two of the Premier League's best goal-getters. The only player whose record may be considered more impressive is the man he plays alongside. Suarez has six goals in four games since returning from his ban.
The argument is that he has not done it over a long enough period of time but when you add the 10 league goals he netted for Liverpool last season, too, his record reads 18 in 23 matches. It is still not the longest period of time but it shows he has been producing for the equivalent of more than half-a-season, scoring at a rate significantly better than a goal every other game.
This is not to say that the Liverpool man is a better player than the likes of Van Persie, Aguero or Suarez but his goal return in combination with his all-round performances since being given the chance to play up front on a regular basis means he has at least earned the right to be mentioned, if not in the same breath as them, then certainly not too far behind.
Yet whilst the 'SAS' partnership is filling plenty of column inches - something Suarez never fails to do - Sturridge alone has not had the same level of attention.
Not that Kopites will be too concerned about a lack of recognition provided the goals continue to flow. The good news as far as they are concerned, opposition defenders may think otherwise, is he believes he can still improve significantly.
"I think, for my capacity as a footballer, I would say a seven out of 10. Probably even six, I am being kind to myself saying a seven. I can do a lot better than I am doing now," he told the Sunday Times when asked to rate his performances for Liverpool to date.
"Even if I score three goals, I have probably had 10 chances, so should have scored five. I will never get complacent."
That Sturridge believes he can improve so much is a frightening prospect for defences both domestically and on the international stage. It also shows an attitude which conflicts hugely with the image of the man who has often been portrayed.
The selfish, lazy, arrogant individual he was depicted as at Stamford Bridge just does not seem to match the Sturridge we hear from in interviews these days. He comes across as polite and relaxed. Yet still the accusations levelled at him in the past continue to linger. Perhaps it is this which is preventing him being viewed as a really top-level striker.
Sturridge is not the finished article. He more than anyone, it seems, would admit that. However, the pace, power and intelligence he has shown since joining Liverpool, alongside his phenomenal goal return, mean that before long people will be left with little choice but to count him amongst the very best plying their trade in England's top flight.