Championship: Derby captain Shaun Barker will continue rehabilitation in America
Derby club captain Shaun Barker is to spend two weeks in America as part of his rehabilitation from a knee injury.
Last Updated: 06/11/13 12:32pm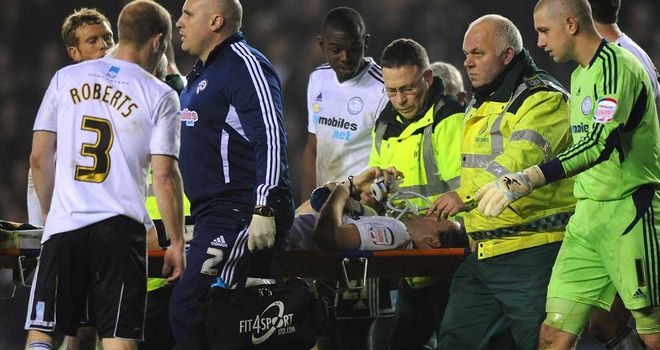 Barker has been out since suffering a dislocating kneecap and ruptured medial, anterior and posterior cruciate ligaments in March 2012.
The 31-year-old centre-half recently stepped up his rehabilitation although there is still no date set for his return to action.
Barker will fly to Philadelphia on Sunday where he will work with sports rehabilitation specialist Bill Knowles.
"Bill Knowles came over a few months ago and so he is someone I've met already and spoken to about my injury alongside our medical team," Barker told the club's official website.
"I am grateful that the club and (head coach) Steve McClaren are allowing me to go out for two weeks.
"Bill is a top rehabilitation coach. I will have two tough weeks of work out there and I'm looking forward to it.
"I'm in a good place going out there thanks to the medical team here at Derby."
Derby head physio Neil Sullivan added: "Bill Knowles is someone I invited to the training centre earlier this year to spend two days training our medical team in his methods and practices, and to meet Shaun to discuss his rehabilitation.
"For us to be able to call upon the best specialists in the world to give Shaun that extra boost is invaluable. We obviously want him to have the best chance possible of resuming his career and this trip to see Bill will help with that aim."