Sandro backs Tottenham team-mates Erik Lamela and Roberto Soldado
Sandro is confident Erik Lamela can be a 'big player' for Tottenham and suggests Roberto Soldado needs more support.
Last Updated: 24/11/13 10:50am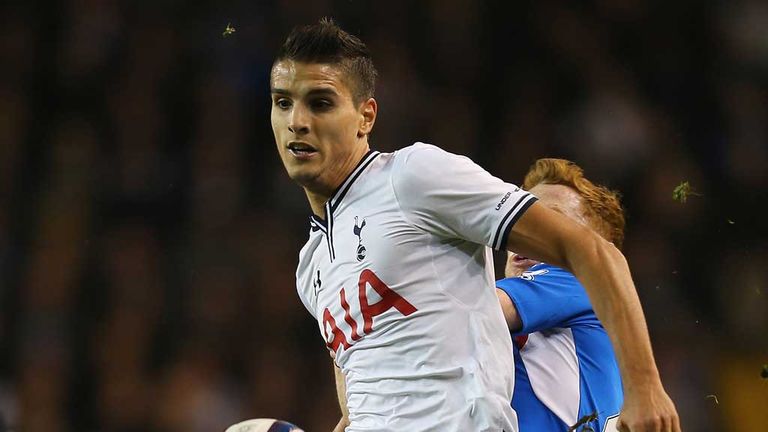 Spurs' club record signing Lamela has yet to start a Premier League game since arriving at White Hart Lane from Roma before the close of the transfer window.
Soldado was another big-money summer signing, but three of the former Valencia striker's four Premier League goals have been penalties.
However, Brazilian midfielder Sandro insists it takes time to adapt to playing in England and has backed Lamela and Soldado to come good.
"It's not easy for players coming from another country," said Sandro in The Observer. "In the Brazilian league, where I came from, the style is slower whereas here, it's so fast and strong. I had to learn.
"It's off-the-field also. Your family is not here, your friends are not here. I felt at home only after six months, one year. Some players don't speak English and it's harder because everyone speaks and they can't say anything.
"Erik, Paulinho and Soldado have asked for advice. I just say, 'Don't worry, come with me'. I say, 'Start to laugh. If you don't understand, just laugh'.
"Paulinho has more experience, he plays a lot on the national team and he's a midfielder whereas Lamela has to understand more tactical [instructions].
"But it's starting to come for Lamela. He likes to play with the ball close to him, to dribble. You do not put the ball away from him, like Azza [Aaron Lennon]. You pass to him. He can be a big player. He just needs games and confidence.
"With Soldado, sometimes we have to come to help him, to support him. We have to play closer to him."
The sale of Gareth Bale to Real Madrid for a world record sum helped Spurs boss Andre Villas-Boas to overhaul his squad, and Sandro is happy with how the team are performing following the departure of the Wales international.
He added: "Everyone knows what Bale did for this club and it's hard to quickly forget him, but I think the team is doing well.
"We play differently now but I hope everyone will do well and start to win games, and no-one will talk about it anymore."