Champions League: Ashley Cole will start for Chelsea against Steaua Bucharest
Chelsea manager Jose Mourinho has confirmed Ashley Cole will return to the starting line-up on Wednesday.
Last Updated: 11/12/13 2:12pm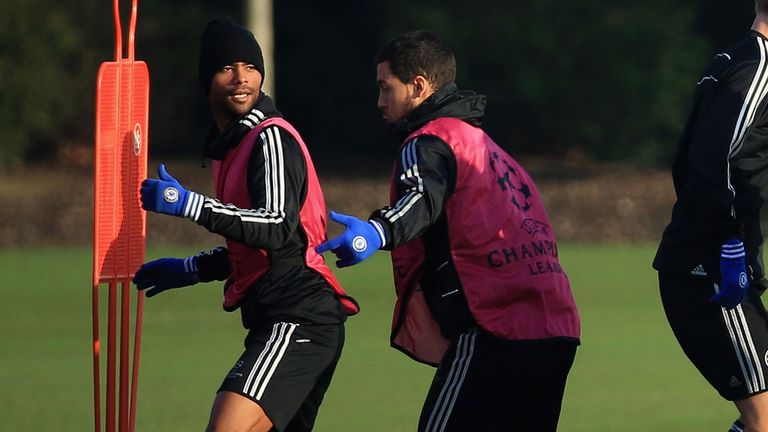 Mourinho is planning to ring the changes but stressed that the Blues will still be going all-out for victory, in order to ensure that they finish top of Group E and play a second-placed finisher in the next round.
Cole has been on the bench for the last seven matches, due to the impressive form of young Spaniard Cesar Azpilicueta, but the experienced England international will be back in the line-up on Wednesday.
Mourinho said: "Ashley Cole will start. I know him well, the way he trains and behaves is as a super professional. He's a fantastic guy.
"Naturally, with the evolution of the season, he will play in matches. He will always play and he will always be a good player."
Cole is out of contract at the end of the season but Mourinho thinks he will be given an extension, even if he is not a regular starter.
"Naturally he will get his contract, because he's a valuable player for us," said the Blues boss.
"Even if you are not playing every game and you are not a first-choice player, like he was always, I don't think it means that you are not well, that you are not deserving a new contract."
Return
Chelsea duo David Luiz and Oscar could return to action after injury-enforced absences against Steaua, having both trained on Tuesday morning.
"I'm not going to play with the same team as the last match, we have a lot of games and some players need a rest," said Mourinho.
"We have a strong squad and, in certain positions, we have lots of options. In the striking positions we have three, which is the perfect number. All of them are getting minutes and matches.
"I want to have the feeling of winning the game. You never know but, normally, to finish first in the group gives you a better chance, so we have to try to win the game.
"I think we are the best team in the group and we have to prove that by finishing first."
Chance
Chelsea beat Steaua 4-0 in Romania at the start of the group stages but Mourinho is not expecting an easy night.
"Steaua have been very important in the group because they took four points from Basel and drew against Schalke," he said.
Regarding Chelsea's overall prospects, Mourinho added: "We've reached the last 16. If we reach the quarter-finals, I used to say every team at that stage has a chance to win it.
"When the best teams arrive in the last eight anything can happen. In the last 16 we will find some difficult teams."
Chelsea v Steaua Bucharest is live on Sky Sports 3HD on Wednesday at 7.30pm