Akpo Sodje and Ian Goodison free to carry on playing after being released on bail
Ronnie Moore says the Tranmere footballers arrested over spot-fixing allegations are both free to carry on playing.
Last Updated: 12/12/13 9:59pm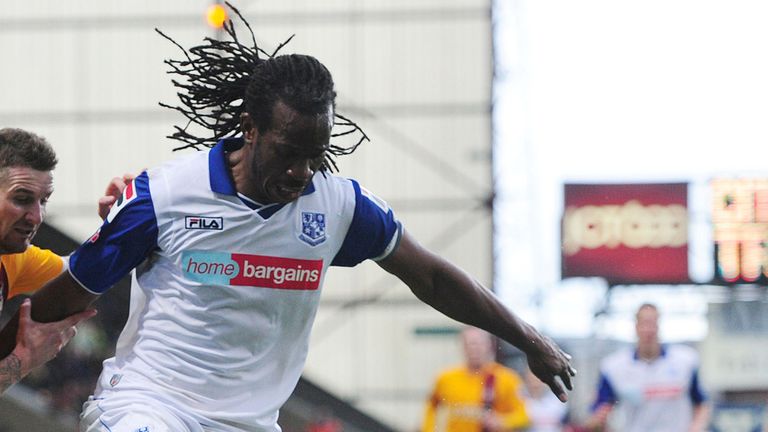 Akpo Sodje and Ian Goodison were among six men to be detained on Sunday by National Crime Agency (NCA) officers, who were acting on information provided by the Sun on Sunday newspaper.
However, the six men were released on bail and Moore says they must be treated as innocent until proven guilty and are free to continue playing, although Goodison is currently injured.
Moore told Sky Sports on Thursday: "I spoke to both of them over the phone and they assured me that they have done nothing and I have to take that as the truth, until somebody tells me different.
"Goodison is injured but Sodje is available for selection. He will train with the boys today.
"It's difficult but the good thing about this country is that you are innocent until proven guilty, so we are taking it that there's no truth in what's been said.
"If it comes out that there are one or two things that they have done, then obviously the whole situation changes. At this present time, we put our arms around them and we get going."
Shocked
Asked if the news had shocked him, Moore added: "I think everybody was. Both of the players, for me, have been fantastic. We call Goody 'the legend'!
"Nobody has proven anything, the police have not charged them with anything. and we will just get on with it.
"They're being paid to play football and, when Goodison is fit and available and, if the situation is still the same, then he'll play.
"Akpo has been on the bench, he hasn't been able to force himself into the games in a starting position at this time, but we've got to back him until somebody tells us something else."
Regarding the issue of spot-fixing in general, Moore added: "We've got to stamp it out.
"When they do catch the lads who are doing it, they need to be battered, we need to make sure the sentences are long and frighten one or two players from doing it.
"It really does need sorting out and I'm sure it will be."