Sam Allardyce's injury update on West Ham duo Stewart Downing and Andy Carroll
Sam Allardyce does not expect West Ham United winger Stewart Downing to be out for ten weeks.
Last Updated: 13/12/13 3:00pm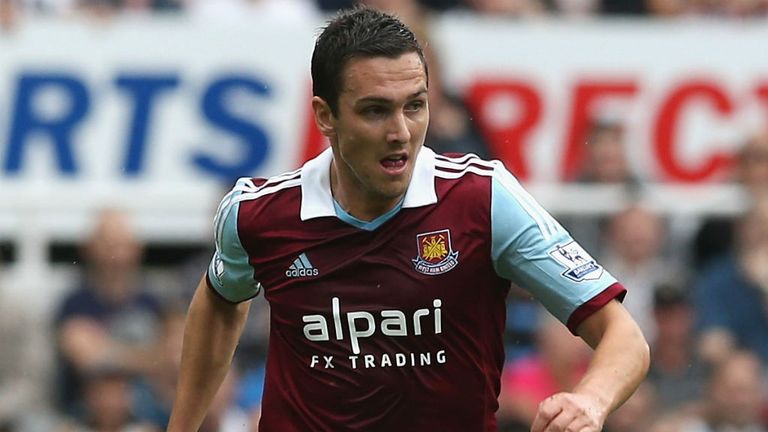 Downing suffered a deep gash across his calf and Achilles during last week's 4-1 defeat at his former club Liverpool which required 12 stitches.
Reports have suggested that Downing could be out until March, but Allardyce is optimistic that he will be back before that date.
"I don't think it will be that long," said Allardyce at his press conference ahead of Saturday's game at home to Sunderland.
"We always try not to be too specific about the date of any particular injury. First and foremost it's about how quickly does the scar heal, does Stewart recover from that and then when he starts training again how does he feel on a day-to-day basis?
"At this moment in time it's very difficult to say based on the healing process as we don't know how long that will be.
"We've done all aspects possible to make sure that the one big thing that is stopped with this is infection. The size and depth of the wound means that the last thing we want after the surgeon stitching him back together is an infection. That would put him back a period of time.
"Hopefully there'll be no infection in there and I think his recovery will be much quicker than ten weeks."
Meanwhile, Allardyce is adamant Carroll will not face fellow strugglers Sunderland as the striker continues to build up his fitness following a heel injury.
The West Ham boss added: "There's no chance that Andy Carroll will play any part because he's only been training on his own at the moment.
"It's like learning how to walk again. He is weeks and weeks and weeks and weeks and weeks behind where we thought he would be.
"Going through gentle processes of rebuilding his confidence in the injury not reoccurring and that's the big thing. Once you've recovered from one injury there's always a confidence factor when you come back into training over whether it's okay.
"When you come back to training and it goes again then there's a greater fear the second time you come back. I think that from Andy's point of view we take things on Andy's say so as well as the specialists.
"He's got no chance of playing in the next two weeks."