Sky Bet Championship: Tomasz Kuszczak hoping to help Brighton to the big time
Tomasz Kuszczak is planning a lengthy stay at Brighton and hopes he can help to win promotion during that time.
Last Updated: 17/12/13 9:38pm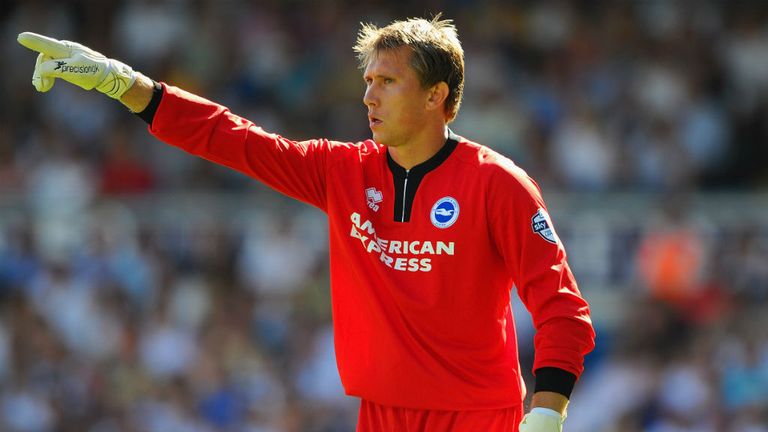 The Polish goalkeeper has been with the Seagulls since the summer of 2012, making 64 appearances during that time.
He took the decision to step down into the Championship after leaving Manchester United as a free agent, but harbours ambitions of gracing the top level again in the near future.
Kuszczak hopes he can hit his targets while with Brighton, with the 31-year-old convinced that the south coast outfit are heading to the Premier League in a hurry.
He told The Argus: "I made my appearances (at United) over a lot longer period. That's why I decided to move somewhere where I am going to get more games and prove to everyone that I can play week after week.
"At Manchester United I played Champions League games, top games against top teams. It was a little bit different pressure too, because when you play against Liverpool, for example, for United there is always a pressure there which can only help your career.
"That's what happened with me. I didn't play regularly but now I have used my years of experience at Manchester to become a better goalkeeper every week, every game for Brighton.
"I'd really love to play for Brighton for many years but the dream is to go into the Premier League. For me, individually, maybe this is going to sound arrogant, but I want to play in the Premier League, at the top level, to see my game on Sky every week, not the odd game here and there.
"I want to be there and have this little bit different excitement. The Premier League is something special, so much different to the Championship with the excitement and the quality level that is produced.
"That is why I decided to come, play regularly, prove myself, become a better goalkeeper, have good form and help the team to be promoted.
"Everything that has happened in this club in the last two or three years is fantastic, the facilities and the football, the spirit and the interest of fans. Everything is just pointing in one direction.
"That's why I want to be part of it. I hope there are going to be more and more games and we are going to be here after 600 games having the same conversation. Another 10 years maybe? Why not if I'm fit.
"The Premier League is the place I want to be and wouldn't it be great if I can go there with Brighton?"