Nicolas Anelka denies claims he made anti-Semitic gesture at Upton Park
The Football Association is to investigate WBA striker Nicolas Anelka after his controversial gesture against West Ham.
Last Updated: 30/12/13 4:53pm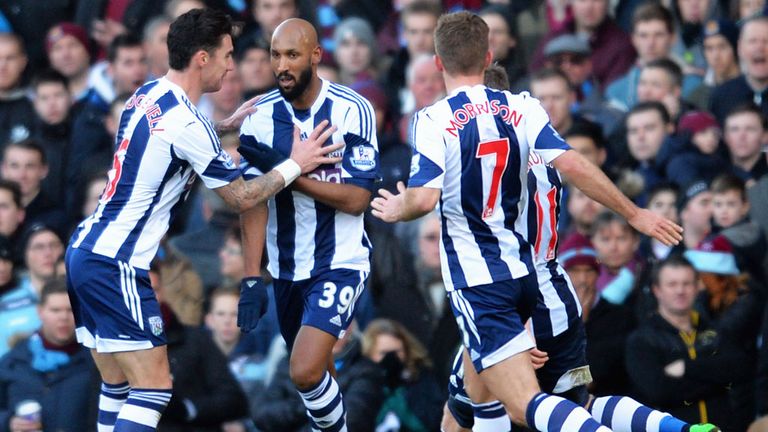 The 34-year-old marked his return to West Brom's side with two goals, while Saido Berahino was also on target against the Hammers in the 3-3 draw at Upton Park.
But Anelka was forced to explain his goal celebration after he seemingly performed the 'quenelle' salute, made famous by French comedian Dieudonne and linked to anti-Semitism in his homeland.
The Frenchman tried to defend himself on Twitter, suggesting he was paying tribute to Dieudonne, a personal friend.
He tweeted: "This gesture was just a special dedication to my comedian friend Dieudonné."
The FA has confirmed it is launching an investigation.
The incident has caused a huge storm in France. French minister for sport Valerie Fourneyron condemned the gesture, describing it as "shocking" and "disgusting" through her official Twitter account.
She wrote: "Anelka's gesture is a shocking provocation, disgusting. There's no place for anti-Semitism and incitement to hatred on the football field."
A statement from anti-racism campaigners Kick It Out read: "The campaign is in contact with partners in England and France regarding this matter and has offered its support to the Football Association in any forthcoming investigation."
Richard Ferrer, of the Jewish News, told Sky Sports News: "Prior to this blowing up this afternoon it wasn't something I was familiar with. But after doing a little bit of research, the 'quenelle' - as it is known in France - is a reverse Nazi salute. The arm is upright and saluted in the infamous Nazi gesture. But this, as you saw, is arm down, with the other arm touching the shoulder.
"This is either a lack of awareness on Anelka's part, or something more sinister...he must be aware of the 'quenelle's meaning and the baggage it carries. Surely he was making a statement? It's a major concern for the Football Association."
European Jewish Congress president Moshe Kantor said: "This salute is merely a lesser known Nazi salute and we expect the same kind of punishment to be handed down by the authorities as if Anelka had made the infamous outstretched arm salute."
Dieudonne, who has past convictions for making anti-Semitic remarks, insists the 'quenelle' is merely "an anti-establishment gesture."
'La quenelle', is the subject of a fierce national debate in France that has reached the French interior ministry and stands accused of sparking a spate of attacks across Anelka's homeland.
West Brom head coach Keith Downing played down claims about the celebration and said anything else being read in to the display was "absolute rubbish".
"I'm aware of it but it has got nothing to do with what is being said," he said.
"It is dedicated to a French comedian he knows very, very well. He uses it in his act and I think speculation can be stopped now, it is absolute rubbish really.
"He is totally unaware of what the problems were or the speculation that has been thrown around, he is totally surprised by it."