West Brom's Nicolas Anelka asks FA to drop quenelle charge, insisting: 'I'm no racist'
West Brom's Nicolas Anelka has asked the FA to drop their charge over his controversial 'quenelle' goal celebration.
Last Updated: 23/01/14 7:21pm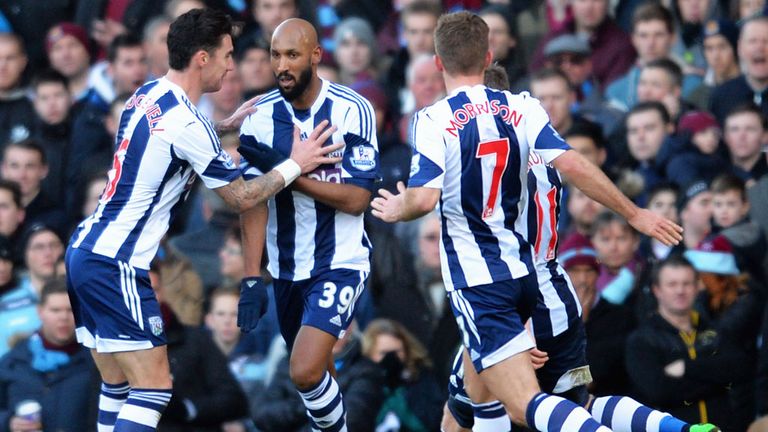 The Albion striker was charged by the governing body on Tuesday for making a gesture alleged to have been "abusive or indecent or insulting or improper" during his side's Premier League match at West Ham on December 28.
Anelka, who faces a minimum five-match ban, has repeatedly insisted the sign - considered by some to have anti-Semitic connotations - was an anti-establishment one without racial intent.
He has yet to submit a formal response to the charge, ahead of the FA's 6pm deadline on Thursday, but maintained his defiant stance on social media.
"I ask that the FA kindly remove the charges alleged against me," the 34-year-old wrote on his Facebook page on Wednesday afternoon. "And I repeat, I am neither anti-Semitic nor racist."
Anelka had earlier used Twitter to share a video clip of an interview with Roger Cukierman, head of Jewish organisation CRIF (Representative Council of French Jewish Institutions).
Cukierman had questioned the potential punishment, saying: "It seems a bit severe to me because it seems to me that this gesture only has an anti-Semitic connotation if the gesture is made in front of a synagogue or a memorial to the Holocaust.
"When it's made in a place which is not specifically Jewish, it seems to me that it's a slightly anarchic gesture of revolt against the establishment, which doesn't deserve severe sanctions."
The striker's defence found no favour in other quarters, with the Board of Deputies of British Jews citing his apparent lack of remorse.
Vice-president Jonathan Arkush said: "I know under the rules that on a first-time offence there is a minimum five-game suspension but I think what he did was sufficiently serious to justify a longer suspension than five matches.
"He has not indicated one bit of remorse or regret or apologised for his actions. He has simply said he wouldn't do it again and that is not good enough."
The FA recruited an expert to help decide whether or not to bring charges following a lengthy investigation.
A three-man independent regulatory commission will now be appointed to deal with the case, deciding either on a sanction or to hold a disciplinary hearing if Anelka submits an appeal.