Deadline passes for West Brom striker Nicolas Anelka to appeal quenelle gesture
Nicolas Anelka's 6pm FA deadline passed without word on whether he intends to fight a misconduct charge.
Last Updated: 23/01/14 7:21pm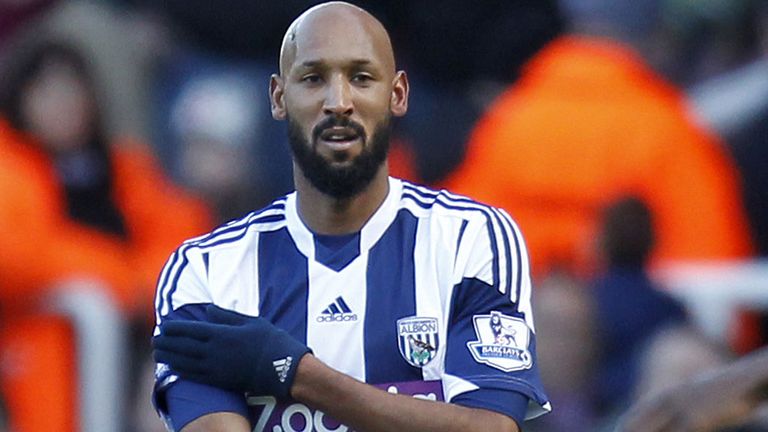 The West Brom striker had until 6pm to respond to a charge over his 'quenelle' gesture at West Ham last month, but the hour came and went without an update from the FA or Anelka.
It seems unlikely he will accept the charges after publicly asking the FA to reconsider, insisting his gesture was motivated neither by anti-Semitism nor racism.
"I ask that the FA kindly remove the charges alleged against me," the 34-year-old wrote on his Facebook page on Wednesday afternoon. "And I repeat, I am neither anti-Semitic nor racist."
The 34-year-old, who faces a minimum five-match ban, has repeatedly insisted the sign - considered by some to have anti-Semitic connotations - was an anti-establishment one without racial intent.
Anelka believes he has the backing of Roger Cukierman - the president of the Representative Council of Jewish Institutions in France.
Cukierman had said the gesture could be viewed as anti-establishment but has now distanced himself from those comments and says the gesture was clearly suspect and he did not want to be an expert in this case.
But Anelka has received the backing of Dieudonne M'bala M'bala the French comedian who invented the quenelle gesture.
"Nicolas Anelka has all my support, that's evident," he said.
"I consider him a brother in humanity. He's someone who is very courageous and for whom I have very much respect and admiration.
"Anelka is a descendant of slaves and if he wants to remark on this history then he has the right to - and we are all very proud of him doing so."
A three-man independent regulatory commission will now be appointed by the FA to deal with the case, deciding either on a sanction or to hold a disciplinary hearing if Anelka submits an appeal.
The striker's defence found no favour in other quarters, with the Board of Deputies of British Jews citing his apparent lack of remorse.
Vice-president Jonathan Arkush said: "I know under the rules that on a first-time offence there is a minimum five-game suspension but I think what he did was sufficiently serious to justify a longer suspension than five matches.
"He has not indicated one bit of remorse or regret or apologised for his actions. He has simply said he wouldn't do it again and that is not good enough."