Oviedo exclusive
A serious injury threatens to ruin Bryan Oviedo's World Cup hopes, which is a damn shame for a likeable player. Matt Stanger interviewed Everton's Costa Rican on Thursday and found him in high spirits as he discussed the club's top four aspirations...
By Matt Stanger - @MatthewStanger
Last Updated: 28/01/14 12:02pm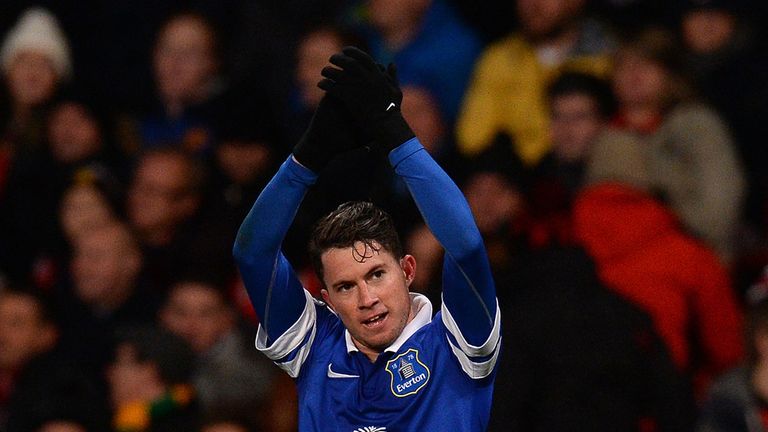 As the stretcher was summoned for Bryan Oviedo on Saturday evening, his teammates' panicked faces revealed their concern. Not only would a bad break signal the end of the 23-year-old's season, it would also leave his dream of playing for Costa Rica at the World Cup hanging in the balance. But that wasn't the first thought on Oviedo's mind. "Make sure you win," he said as he was carried from the pitch.
Following surgery on Monday, the prognosis is that Oviedo will be out for around five to six months; a huge blow to both the left-back and his club. He has epitomised Everton's new lease of life under Roberto Martinez, scoring the only goal in the victory over Manchester United at Old Trafford after playing his way into the first-team picture.
When I spoke to Oviedo on the Thursday before his ill-fated trip to Stevenage for Everton's FA Cup fourth-round tie, he was in high spirits along with the rest of the squad. I arrived at the Toffees' training ground amid a hailstorm and was greeted by a thrum of excitement as I rushed inside.
John Stones and Steven Naismith had found a photographer's camera and were taking pictures of their goal celebrations and the forward's heavily tattooed calves. Leon Osman shared a joke with the office staff while Gareth Barry patrolled the corridors in the manner he would midfield on a Saturday afternoon. The elderly receptionist fiddled with a pile of lanyards as assembled journalists flicked through their notes.
Then in walked Oviedo, with a beaming smile beneath a footballer's haircut. Two of the dozen words of Spanish I can remember and we were away, talking top-four hopes and Tuesday's Merseyside derby.
Oviedo's answers were thoughtful and earnest. His eyes flickered around the room as he considered his responses, but there was no hesitation when I asked if Everton can secure a place in the Champions League: "Yes. We have a very good squad, good players. We work hard in training and that is very important for us to achieve la meta (the goal) to finish in the top four."
Everton have lost only twice this season and sit just a point behind fourth, but they face an enormous test at Anfield in Oviedo's absence. In previous duels against the top sides this season, the Toffees have exhibited the courage of Martinez's convictions, attacking United and Arsenal away to pick up four points in back-to-back matches in December. Oviedo expects a similar approach at Liverpool.
"We will play to win because if we beat Liverpool we are in the top four," he said. "It is not easy because Liverpool have good players, a good team. But we have also very good players and a good team.
"I think it's an exciting match for everyone watching. It's a different game because there's more motivation."
Oviedo's injury has denied him the chance to make only his second Merseyside derby appearance, but he has quickly learnt the significance of the fixture during his 18 months in England and expects his teammates to be ready for the challenge.
"They are the best games of the season for us and every Evertonian," he said. "All the time when we play derbies we need to win."
Everton's recent record is not the best. They have failed to win any of the last seven meetings between the two teams and haven't beaten the Reds at Anfield in 15 years. But Oviedo is confident that under Martinez the Toffees can achieve a rare victory.
"I think the team plays very well under Roberto," he said. "We are very happy with him - everyone is happy in the squad.
"Of course, when he came here I tried to work very hard to get a chance in the first team. He told me he's happy to play me in different positions because I try to help the team every time I play."
The 23-year-old's versatility will be sorely missed during his spell on the sidelines. Following Leighton Baines' return from injury, Oviedo has played ahead of the England international on the left wing and even started on the right in the 1-1 draw with West Brom.
"I'm happy to be playing," he said before his cruel injury at Stevenage. "For that I'm working hard every day. Last year I didn't have so many chances to play and this year I have more chances. I need to play to be ready for the World Cup."
Oviedo's double leg fracture could rule him out of Costa Rica's squad for their Group D tests against England, Italy and Uruguay, but his manager is remaining positive about his chances.
"Bryan is in great spirits as it has been two difficult days," Martinez told reporters on Monday.
"He has been inundated with messages of support and affection and he is a really positive guy."
"You are usually talking about a broad timescale of five to six months but I think Bryan will be a little less than that and if he can make it to the World Cup that will be an incredible boost.
"We can't say he will miss the World Cup or not, it is still up in the air."
With Colombia striker Radamel Falcao - who is also a doubt for the World Cup - among those tweeting their support to Oviedo, he will know that everyone is rooting for him to recover in time for the tournament. But that won't be the first thought on his mind on Tuesday. "Make sure you win," will be the message to his teammates as he cheers them on in the Merseyside derby.
This interview first featured on Football365