Serie A: Michael Essien says he is delighted with AC Milan move
Michael Essien has described his move from Chelsea to AC Milan as "a dream come true".
Last Updated: 28/01/14 2:58pm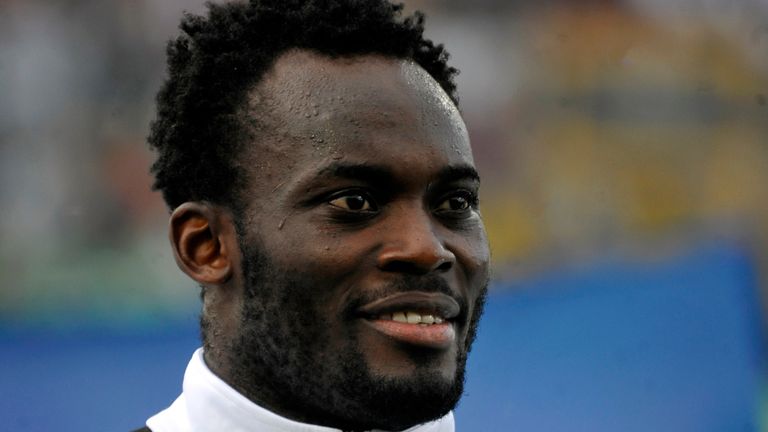 The Ghanaian midfielder arrived in Italy on Monday and signed a contract at the San Siro until June 2015, ending an eight-and-a-half-year spell at the London club.
Essien is poised to make his debut for Milan - who sit a disappointing ninth in Serie A - against Torino on Saturday at the San Siro.
"I always said to my friends and family that before I finished my career I wanted to wear the Milan jersey," Essien said at Tuesday's press conference.
"Then I spoke to (Milan coach Clarence) Seedorf and I didn't want to join any other team.
"My decision to come here was only for one reason and that is to wear the colours of a top club.
"I am delighted to be here, it's an honour.
"This is a dream come true.
"I can't wait to make my debut."
Essien joined Chelsea from Lyon in 2005 and made 256 appearances for the Blues.
The 31-year-old opted to leave Stamford Bridge after seeing his first-team opportunities limited this season and hopes the move to Milan will save his World Cup hopes.
"I don't know the reasons why I played so little this season," Essien said. "It was (Chelsea coach Jose) Mourinho's decision.
"Mourinho is a great coach and he encouraged me to come here, saying that I would feel right at home in Italy.
"There are many champions at Milan who, like me, have a great will to win.
"I know that if I play with continuity at Milan I will be able to showcase myself and be able to go to the World Cup.
"I hope to go to Brazil with Ghana."
Essien is well aware that the seven-time European champions have fallen on hard times.
Milan trail 28 points behind league leaders Juventus, while they were last week eliminated from the Coppa Italia.
Milan sacked coach Massimiliano Allegri earlier this month and appointed former midfielder Seedorf as his replacement.
The club is still alive in the Champions League and will take on Atletico Madrid in the last 16 of the competition next month.
"This is a strange season, but we will continue to do our best until the end," Essien said.
"When you join a club like Milan you always play to win.
"I am very happy to be able to play in the Champions League with Milan.
"Atletico are a very good side but we can beat them."