Copa del Rey: Iker Casillas angry after Real Madrid's Cristiano Ronaldo struck by lighter
Real Madrid keeper Iker Casillas says there could be serious consequences after Cristiano Ronaldo was hit by a lighter.
Last Updated: 12/02/14 11:02am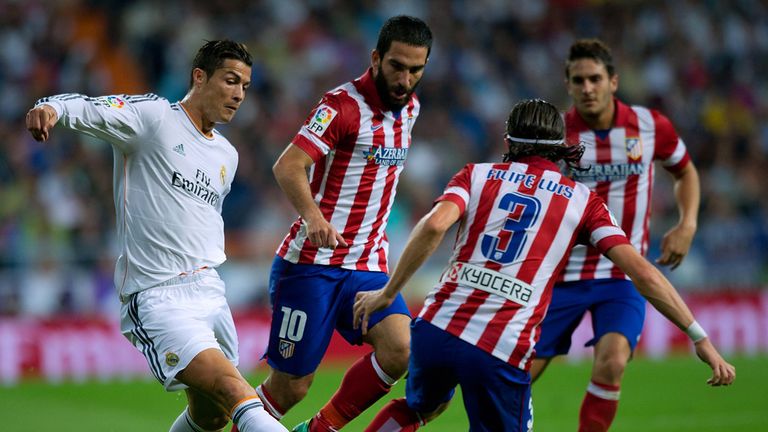 Two early penalties from Portugal forward Ronaldo earned Carlo Ancelotti's side a 2-0 win at the Vicente Calderon, securing a 5-0 aggregate triumph in the two-legged semi-final.
Ronaldo's reward was to be struck by a lighter as he walked off at half-time alongside Sergio Ramos, and, although he was not seriously injured, Casillas felt it could have turned out a lot worse.
"There is always someone that tries to smear the image of a club like Atletico Madrid and it doesn't reflect how the majority of their fans are," he said on the club's website.
"I think the consequences could be serious, because it could have hurt a player."
Ronaldo played for the remainder of the match and left at full-time as a winner, and with the praise of coach Carlo Ancelotti soon ringing in his ears.
"The tie overall was good for us," the Italian said. "The advantage that we got in the first match was crucial. We also scored very soon (on Tuesday night), which almost settled things.
"The team played well in both matches and we deserved to win. I think that we have played well in all of our cup matches, and kept clean sheets, and that is very good. Now we're through to the final, which is important.
"Cristiano is doing well. He scored two goals and played a key role at the start of the match. The three forwards did well at the start and were very dangerous."
Record signing Gareth Bale agreed that the visitors fully merited their triumph, which set up a final date with either Barcelona or Real Sociedad.
"We played a great match," the Wales forward said. "We did very well in the tie overall and deserve to be in the cup final.
"We are doing very well in attack, but we have improved a lot in defence. We are playing very well. It is great to see that what we work on in training comes off when we use it in matches and gets us the results."
Full-backs Marcelo and Fabio Coentrao did not feature on Tuesday, but Ancelotti said the pair will be in contention for this weekend's game at Getafe.
"The two of them were not quite at 100 per cent, so I preferred to rest them for this match," the 54-year-old said. "They will be ready for Sunday."