Premier League: Jon Flanagan believes Liverpool can compete for title
Jon Flanagan feels Liverpool can challenge for the Premier League title, with the pressure off them in the final charge.
Last Updated: 16/02/14 9:24pm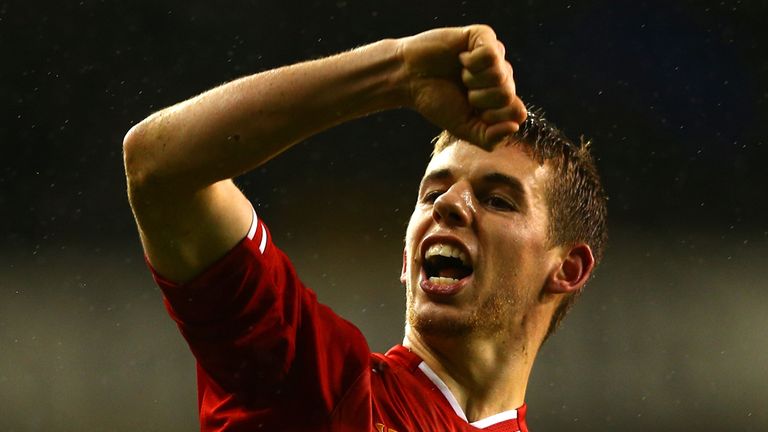 The Reds have been considered outsiders to take the crown since the turn of the year, with Manchester City, Chelsea and Arsenal leading the chase.
All of those in the mix have been dropping points, though, while fourth-placed Liverpool have gone seven games unbeaten in the league, winning five, to close to within four points of the summit.
Manager Brendan Rodgers now considers his side to be very much in the hunt, skipper Steven Gerrard claims they are 'dark horses' and Chelsea boss Jose Mourinho has told Sky Sports News that the Reds hold the upper-hand because they are not competing in Europe.
Flanagan agrees that a tilt at top flight glory is on the cards and, as a Merseyside native, admits nothing would give him greater pleasure than to help land a first league crown since 1990.
The 21-year-old full-back told Sky Sports News: "We've given ourselves a great platform to work off now.
"For a local lad, not having a Premiership title for 18-20 years, it's in my mind every day. We're in that position now and it is doable with the games that they've got as well.
"All the lads are just looking for the top four and if we're in and around there with five games to go, maybe.
"We're just concentrating on trying to get top four, so anything above that would be great for us.
"No-one's expecting us to go and win that title, so the pressure is less on us than the other big teams around us."
Mourinho recently described his side as the "little horse" in this season's title race and skipper Gerrard has picked up on the equine theme to describe his side's current status.
"We're in the mix," admitted Gerrard. "It's still early days, there's a lot of football to be played and we're not going to get carried away. But we are in good form. We feel as if we're dark horses.
"We just carry on playing and trying to win as many games as we can. We have the advantage, in a funny way, of no European football, because we have just got the league and FA Cup to focus on."
At Craven Cottage on Wednesday, Liverpool twice came from behind to win 3-2, adding to an impressive run in 2014 that has seen them take 16 points from seven matches.
"We showed we've got talent all over the pitch; at home, with the atmosphere behind us, you don't have to motivate yourself - you just go out and perform, and more often than not you play well," Gerrard told the club's official website.
"But coming away on a Wednesday night, windy, on a difficult pitch, away to Fulham is a big test for the team.
"We've passed it but we still have to learn from our mistakes and defend better on the road if we're to finish in the top four places."
Liverpool's next game is an FA Cup fifth-round tie against Arsenal, a side who are challenging for the title themselves but who were beaten 5-1 by Brendan Rodgers' side last weekend.
Gerrard is very aware of the threat posed by the Gunners, especially following the game at Anfield and their frustrating 0-0 home draw against Manchester United.
"Top sides, when they get beat 5-1, they are hurt," he said. "They have just battled to a 0-0 draw against Manchester United so they have showed they have defended quite well in the game.
"We're expecting a tight game at the Emirates and I think the 5-1 game will have no bearing on this game coming. We're expecting a really tough game.
"It's a break from the league and we'll go there and give it everything we've got because we want a good cup run."