Gus Poyet is hoping Sunderland striker Steven Fletcher will be fit for Capital One Cup final
Gus Poyet is still hoping Sunderland striker Steven Fletcher will be fit for the Capital One Cup final in March.
Last Updated: 14/02/14 4:10pm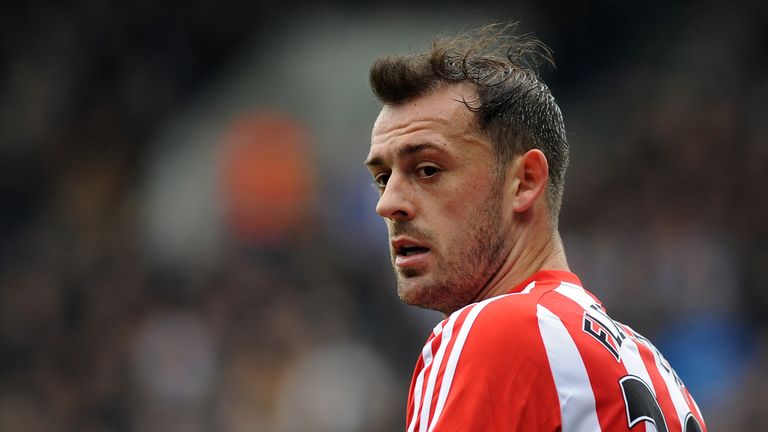 Poyet has been monitoring the Scotland international closely since it became clear his muscle problem was showing no signs of improvement.
While surgery was one option considered, it now looks as though that could be avoided.
With new striker Ignacio Scocco not yet up to speed, Poyet is hoping Fletcher will be at his disposal come March 2.
"He's getting better," Poyet said when asked about the striker's condition. "I'm looking forward to seeing him. He will start moving outside next week.
"He has a little chance against Arsenal [on February 22], a bigger chance for the final."
The postponement of Wednesday's Premier League game at Manchester City means Argentinian Scocco is yet to play for Sunderland, something which will almost certainly be put right on Saturday, when Southampton are the visitors in the FA Cup.
Scocco has not featured in competitive football since November and is not expected to have a sufficient level of match fitness to start against Manchester City at Wembley.
Sunderland's bid to escape the Premier League relegation zone is set for a challenging twist with Arsenal, Liverpool and a rearranged tie with City to come and Poyet is eager to see his star striker back in action.
Tricky
"I want Fletcher back as soon as possible not only because we need him but because of the games we have got to play before the final as well," he added.
"I don't want him to just go into the last days (of rehab) just to be in the final. People who have had Achilles tendon injuries have told me they're quite tricky."
Poyet is hoping to use Saturday's cup showdown with Southampton as an opportunity to get defender Carlos Cuellar back in action, with the defender having been out since November with a hip problem.
"We're going to use Carlos tomorrow if we can," he told Chronicle Live. "The idea is to keep spirits in the group up.
"I'm very pleased with this group. This group is getting better and better.
"Without a doubt, winning games helps - big celebrations help because you become more passionate with your team-mates and a bigger fan of the club you play for."
Desperate
Another player set to feature in the FA Cup is Emanuele Giaccherini after the Sunderland coach admitted the Italian is frustrated with his lack of game time.
Giaccherini, linked with a string of clubs in Serie A during the January transfer window, has not played in the Premier League since Sunderland's New Year's Day's defeat to Aston Villa.
Poyet admits he is struggling to find a role for the 28-year-old, a similar situation to what the head coach faced before Christmas with Giaccherini's compatriot, Fabio Borini.
Poyet told the Sunderland Echo: "He's not happy for sure, but he's a professional. "He trains more than anybody and he wants to run more than anyone else.
"I'm sure he's desperate to have a chance. He will play tomorrow, but it's been difficult for me. I think he's deserved more minutes in the team, but, for some reason, I can't play him.
"It's more me than him. It's like the situation was with Borini. We're trying to do things and there's players in certain positions that I really like and I can't use him in the manner I want to.
"Especially with the form of Borini and Adam Johnson, it's been difficult for him."