Brendan Rodgers delight for striker Daniel Sturridge as he nears record
Liverpool boss Brendan Rodgers has hailed striker Daniel Sturridge as he prepares to break a club record.
By Graeme Bailey - Tweet me: @graemebailey
Last Updated: 16/02/14 9:24pm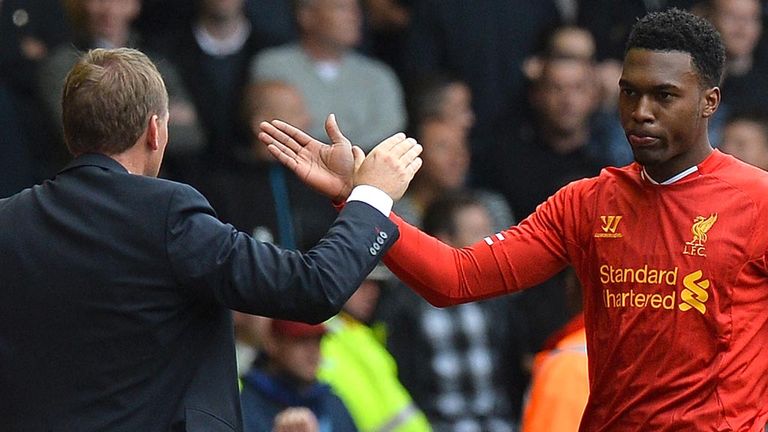 If Sturridge scores in their FA Cup clash with Arsenal on Sunday he will set a new club record by scoring in nine successive appearances in all competitions, breaking a record that dates back 90-years when it was set by Dick Forshaw.
The landmark was levelled more recently by John Aldridge but Sturridge is now on the brink of creating history.
"Daniel's form has been terrific," Rodgers told the Liverpool Echo.
"He has a natural instinct for the goal. I've seen that in him since he was a young player.
"His eyes light up when he's within 30 yards of the goal. He has an instinct to get in there and normally he finishes.
"He is outstanding in one v one situations, and he's up there with Luis Suarez as the best finisher in the league.
"Daniel is always a real threat. He knows what's most important is the team and it's his job to get goals for the team.
"What Daniel has shown over the past year or so playing regularly is that if he can maintain his fitness and get on the field regularly then he will score goals it's as simple as that."
More to come
And despite Sturridge's outstanding form, Rodgers thinks there is more to come.
"I still think he can get more goals," he added.
"I think he can get into other areas which allow him to arrive in more positions to score.
"Daniel is still so young and has many years ahead of him. We try to encourage all players who come here - irrespective of age and where they are in their career - to learn and improve.
"It gives me great pride as a coach when I see individuals develop. You bring them here as part of the team but individually they all want to be better.
"Daniel is just one example of that. Lots of players have made improvements - the likes of Raheem Sterling, Jordan Henderson, Martin Skrtel.
"You've got Luis who has gone to world class level. Look at Steven Gerrard and his game now and the role he's playing.
"When you bring it all together into a cohesive unit you get a really exciting team."
Rodgers also admits that the form of Luis Suarez is rubbing off on those around him, especially Sturridge.
"I think great players make others around them better," said Rodgers.
"It is that difference between good and great. You have great players like those two who give the team confidence and they also open up spaces for other and both are very talented.
"They are helping making other players better and that is what is making us, as a team, better.
"Luis (asked to play a wider role in recent matches) has shown the true team player he is; we just do what's best for the team and that is what is asked of all the players.
"Luis will always get himself in those goalscoring positions because he roams and arrives in those areas.
"Daniel is better through the middle because of his pace and pace really hurts teams.
"Both are outstanding finishers but both are not asked to do any more than the others and that is the key to our success so far."