Premier League: Roberto Soldado targets more goals - and top-four finish for Tottenham
Roberto Soldado hopes that his match-winner for Tottenham against Cardiff will prove the catalyst for more vital goals.
Last Updated: 07/03/14 8:35pm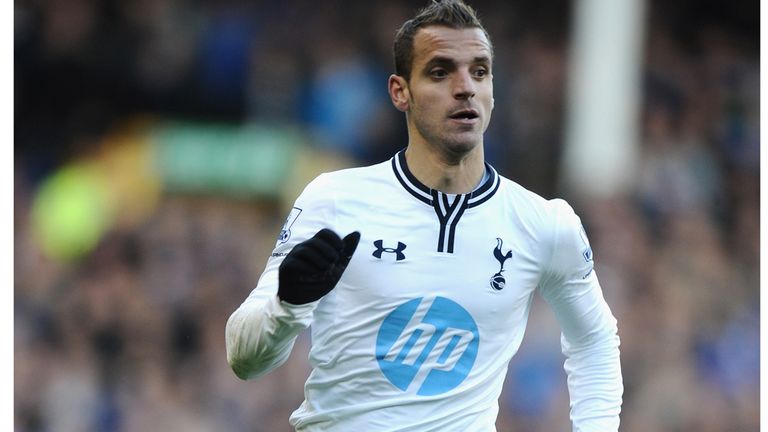 The first-half strike in the Premier League clash at White Hart Lane last Sunday was his first in nine games and Soldado is determined that it will not be his last as he looks to build on his 11-goal haul.
"It was very special for me, but I think the nice thing about it you could see that it was special both for the fans and the rest of my teammates as well," the Spain forward told Sky Sports News.
"I think everyone had been really wanting me to score and trying their best for me to score, and what I am hoping now is that it's not going to be such a big gap between the next goal and this one.
"To tell you the truth, I do feel that having scored that goal, it almost frees you up as a player and I hope I'll be able to continue to score and the goal-scoring run goes on for longer this time."
Emmanuel Adebayor has been fully integrated back into the side by Tim Sherwood following the departure of Andre Villas-Boas, and Soldado has welcomed his strike partner's return from the wilderness.
"I think he's a great player for us and ever since he's come to the club and more especially when he's got into the team and started playing regularly, he's really given us a lot out there on the field," he said.
"He frees me up a little bit, gives me more freedom to play as well because it's a lot easier working together and you can share the hard work up front. I am looking forward to combining with him as well."
As the season enters the final quarter, the former Valencia man acknowledges that the pressure is growing - but he is relishing the challenge as Tottenham look to book a ticket to the Champions League.
"March is going to be very vital for us and as you say, it might define the season," he said. "The good thing about it is that we are going to be playing against a lot of our closest rivals and with victories in those key games, it means you can really close the gap on the people who are above us.
"It is a good period to be going through and certainly we are all going to be looking forward to it as a squad and working hard to make sure the results go our way.
"Playing in the Champions League for a player is the top thing you can do at a club level. You only have to be standing there in the stadium and you hear that theme music and you know it's going to be an exciting game.
"Spurs are a massive club and they deserve their place in that competition and hopefully this season we can achieve it."
Don't forget you can see Chelsea against Tottenham live on the Saturday night football on Sky Sports 1 and Sky 3D from 5pm.