FA Cup quarter-final: Sheffield United's Neill Collins in confident mood
Sheffield United defender Neill Collins is chasing history when his side host Charlton in their FA Cup quarter-final.
Last Updated: 09/03/14 11:19am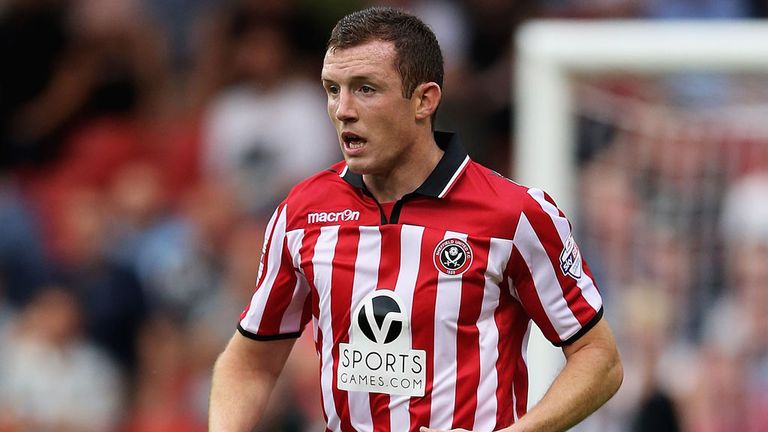 The Blades, whose cup run began at Colchester in November, can become the first third tier side to make the last four of the world famous competition since the new Wembley Stadium opened - and the first anywhere since Wycombe lost to Liverpool at Villa Park in 2001 - if they see off the Addicks.
Having beaten Premier League duo Aston Villa and Fulham away and Championship high-flyers Nottingham Forest at home in the last three rounds, many consider this to be the Blades' easiest task, with the bookmakers making them favourites.
But the experienced Collins has warned his side will have to ignore their own hype if they are to get to tread the hallowed turf of Wembley in the last four.
"No one from the third tier has got to the new Wembley in the semi-finals so that would make it a massive achievement, considering all the games we have had to play coming into the competition in the first round," said Collins.
"It would be great for the club and for the fans especially as they have backed us through thick and thin.
"People will say we are favourites because we have won eight on the bounce but I personally think it is going to be very tight. I don't see us as favourites, they will think that they have got a very good chance of getting to Wembley, just as we do.
"There is more expectation on us than if we were playing Manchester City perhaps, but you still have got to appreciate that they are a Championship side with a lot of international players, we are still a developing side.
"There is more pressure on us than has been in previous rounds, but we are at quite a deep stage in the tournament now so it's not a bad position to be in."
The Blades will certainly be helped by their recent form, which has seen them win the last eight games, conceding only one goal along the way.
It has seen their League One plight transformed from a relegation battle to an outside chance of making the play-offs and has completed an impressive turnaround from the early part of their cup run where their results in the FA Cup were at odds with their form in the league.
And Collins believes their recent cup results have given the Blades a boost in the league.
"Our recent form as well just makes it more enjoyable," he added.
"People always want to put league form and cup form together but at the end of the day it's just a game of football, the same as any other.
"Earlier in the season it just happened that we were winning in the cup and not quite so inconsistent in the league, thankfully we have put that to rest.
"But the cup has given us confidence because we have beaten so many good teams, it has given us belief and seen us go from strength to strength."