Time up for Cole?
WhoScored's Martin Lawrence evaluates England's left-back options for the World Cup, with Leighton Baines and Luke Shaw the leading lights...
By Martin Laurence - @martinlaurence7
Last Updated: 25/03/14 5:30pm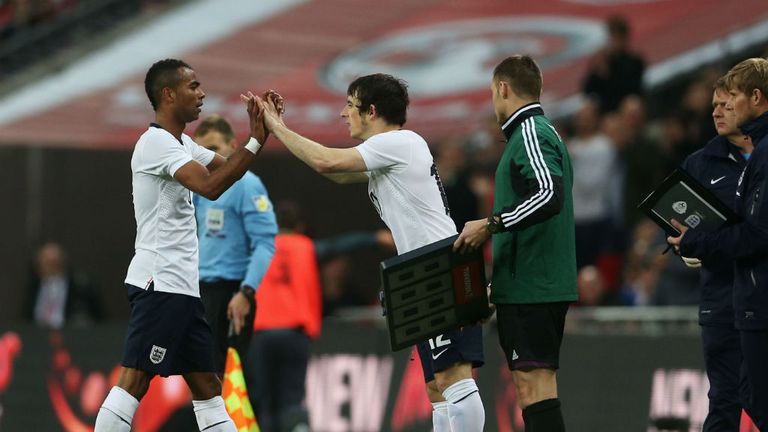 It is a position that provides one of the key decisions the manager has to make between now and 2nd June, when the final 23-man squad must be announced.
Realistically it seems likely to be two of three after Luke Shaw received his first senior international call-up for the recent friendly against Denmark. The teenager, therefore, is ahead of the likes of Kieran Gibbs and Danny Rose in the pecking order, but the question remains as to whether he can oust either Leighton Baines or Ashley Cole.
A preliminary glance at WhoScored.com's statistical ratings suggests that the Southampton full-back has every chance. With an average of 7.08 this season the 18-year old ranks second of all English left-backs in the Premier League behind the aforementioned Baines.
The Everton man has a clear lead in this regard, with an average rating of 7.26 in advance of his 11-year-junior counterpart. Kieran Gibbs is not far behind Shaw with a score of 7.01, while Tottenham's Danny Rose is closer still to the Gunner, with an average of 6.98.
The gap between Rose and Ashley Cole, fifth here, is not too alarming, but the Chelsea man's rating of 6.89 is a considerable drop from the likes of Shaw and, in particular, Baines. A lack of playing time will of course hinder the England veteran, but can you really drop a player who has perhaps been the most consistent for the Three Lions over the last decade and rarely disappoints when called upon?
England's group opener against Italy may well have the biggest say on Hodgson's left-back choices. He must decide whether Baines or Shaw can cope with the defensive demands that will be needed in their first two fixtures, with both better known for their input from an attacking perspective.
Baines has actually averaged the most tackles per game of the top-rated five here (three), ahead of Cole (2.5), while Shaw is bottom of the pack (1.9). The Everton man drops to the bottom when it comes to interceptions (one), however, with Shaw just ahead (1.1) but still some way down on the likes of Rose (two) and Gibbs (1.8), whose solid figures in both categories are notable.
Indeed Gibbs, who like his predecessors at Arsenal - Cole and Gael Clichy - was initially seen as an attacking full-back, is arguably the strongest here from a defensive sense when looking at the stats and the weakest - along with Cole - when going the other way. If there is an obvious and in-form replacement for the long-standing England left-back in terms of playing style it is, perhaps, the Arsenal man.
It is little surprise that Baines is ahead when it comes to chance creation, with 1.3 accurate crosses and 1.4 key passes per game. His closest rival here is not Shaw, however, but Danny Rose. Indeed, the teenager's attacking game is by no means the complete package, but what he does offer is an ability to stretch the play with his pace, particularly in possession.
If Hodgson wants a player to be able to carry the ball forward at speed against the likes of Uruguay and Costa Rica, who are likely to be a little more open, then Shaw certainly holds such a threat. His average of 1.4 dribbles per game is highest of the five, with Ashley Cole averaging just 0.3, in comparison, this season.
Statistically at least, it seems that Baines is Hodgson's most well-rounded option and he is likely to be ahead of the rest right now. The England manager's problem is that the two who are likely to be vying for the second left-back spot could not be more different.
If Hodgson is comfortable with Baines' defensive capabilities against the likes of Italy, Uruguay and whomever they may potentially face pending qualification from the group then Shaw is an attacking option should he be chasing the game. However, if there is any doubt in his mind that the Everton man can do the job in a tough group then Ashley Cole will likely get the call. That said, Kieran Gibbs' defensive displays this season would perhaps merit a place ahead of the out-of-favour England centurion.
Decisions, decisions.
All statistics courtesy of WhoScored.com, where you can find yet more stats, including live in-game data and unique player and team ratings.