Stoke boss Mark Hughes rejects Joey Barton claims over QPR
Mark Hughes has denied Joey Barton's claims that he does not accept some responsibility for QPR's problems.
Last Updated: 03/04/14 6:44pm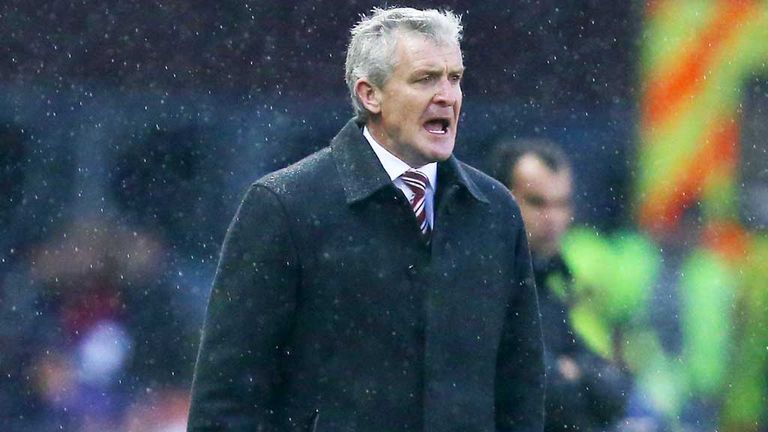 Rangers midfielder Barton launched an attack on Hughes via Twitter this week, claiming the players now at Loftus Road were "trying to clean up his mess".
Barton's outburst was prompted by a newspaper interview in which Hughes, now in charge at Stoke, urged people not to judge him on the dismal start to the 2012/13 season that cost him his job at QPR.
Hughes was sacked just 12 games into a campaign that ended with Rangers being relegated to the Championship from the Premier League.
They are now in heavy debt and looking unlikely to secure automatic promotion back to the top flight, while Hughes is rebuilding his reputation at the Britannia Stadium.
Barton tweeted about Hughes: "Accept you failed. Accept your to blame. Be humble and apologise to a club you left in a hell of a worse situation than when you came."
Hughes insists he has never shied away from his part in what went wrong, but has no interest in returning fire on the outspoken Barton.
The Welshman said: "The game is full of opinions. Joey seems to have a lot more opinions than most.
"It is one of those things. A lot of blame was placed at my door and I accepted it at the time, because I was party to something that unfortunately didn't go as well as everyone involved wanted it to go.
"It wasn't through the lack of trying. We all worked exceptionally hard to make it work, but sometimes the dynamic of a dressing room doesn't allow it to work. That is what happened.
"Joey has a view, I have a view as well on Joey - but I keep my thoughts to myself."
Hughes was asked to elaborate further on the issue of culpability.
He said: "There is a lot of blame. I have taken my share of the blame and rightly so. Some of it is warranted and some of it isn't. That happens in football.
"Everyone worked hard to try to make it happen. There were a lot of issues at the club.
"It was a difficult time for everyone involved but I wish them well. I hope they go up this year."
Hughes is now preparing his side for Saturday's Premier League trip to Chelsea as the Potters, who are currently 10th in the table, look to secure a top-half finish for the first time since promotion to the top flight in 2008.
He said: "Now we have put ourselves in a really strong position to achieve what we set out to do at the start of the year.
"It is about making sure we capitalise on the position we have put ourselves in for these last six games."
Watch Chelsea take on Stoke live on Sky Sports 1HD at 5.30pm on Saturday.