Sky Bet Championship: Blackpool player-manager Barry Ferguson will carry on
Barry Ferguson has vowed to play through the pain barrier to aid Blackpool's survival fight.
Last Updated: 14/04/14 3:20pm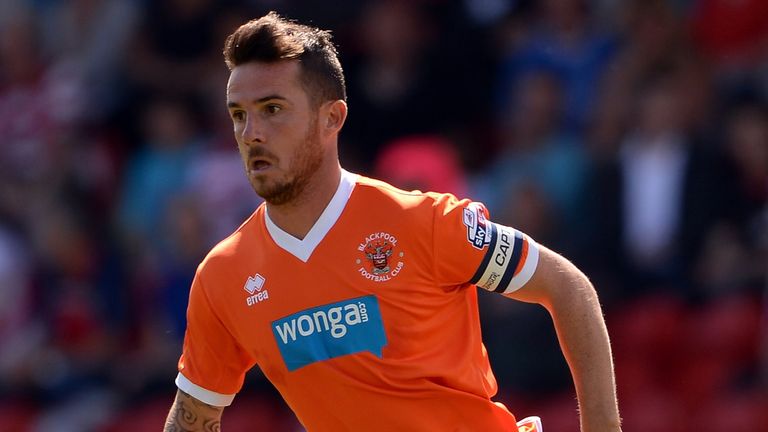 The caretaker manager made a return in a playing capacity at Elland Road on Saturday, playing 90 minutes in a 2-0 loss to Leeds despite carrying an ankle injury.
Ferguson had not put on his boots since taking the reins when Paul Ince was sacked in January, and he had previously said he needed his ankle problem tending to before contemplating a return.
However, with the Seasiders now just two points from the bottom three, Ferguson will roll up his sleeves and join his team-mates on the pitch.
"I've only trained for two days, I've not done anything else for a good part of 10 weeks," he told reporters at Elland Road.
"We had a chat about it - the staff - and I asked a few of the players what they thought. And they thought they wanted me to try. I can't believe I got through 90 minutes.
"I'm going to put myself up because it's a fight and I don't shy away from a fight. I'm going to be here until we get the points on the board - I'm going to play."
Ferguson had previously neglected to play in Blackpool's midfield as he thought watching from the sidelines gave him a better picture. But the Tangerines have embarked on a staggering slide after being in the play-off spots at the end of November to force Ferguson's hand.
"Ideally I would like to be on the sidelines," the Scot said.
"I asked the staff the questions and some of the senior players the question of what's best and I need to do what's best for Blackpool. It's not about me, it's about Blackpool and keeping them in this division.
"If I can go out there and help the boys I'll do that; I'll do whatever it takes. I can cope with it, I've done things like this and I'm willing to do it again."
Ferguson now wants another of his senior players to follow his lead.
Blackpool have not won a game this season when Ricardo Fuller has been absent and the striker's current knee problem could conceivably keep him out for the majority of their final four fixtures.
However, ahead of a Good Friday meeting with promotion-chasing Burnley, Ferguson will plead with the ex-Stoke striker to declare himself available.
"Ricardo's missing probably for the best part of the season," Ferguson said.
"I will need to have another chat with him to see whether we can do something, whether the big man will put himself through a bit of pain to play for us because we need everybody we can out on that pitch."