Premier League: West Brom's Jonas Olsson relishing Andy Carroll test
West Brom defender Jonas Olsson is looking forward to the physical challenge of facing West Ham's Andy Carroll.
Last Updated: 26/04/14 2:18pm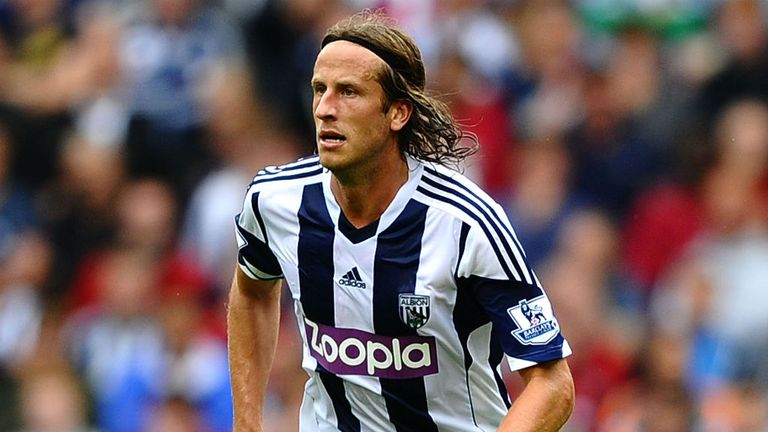 Olsson has come up against Carroll several times already in his career and acknowledges that the striker is always a handful due to his strength and height.
However, it is a contest he enjoys and Olsson hopes he can keep Carroll quiet to help West Brom take another step towards securing their Premier League survival.
"He is a test," said the Swede in the Express & Star. "He's a really good player and it always seems to be a physical battle between us. I like that and I'm sure he likes it as well.
"It will be a test but I am looking forward to it and hopefully we can get over that line soon rather than later.
"We need to put on a good performance over 90 minutes, not 75, 80 or 85. That won't do it.
"We need to do it over 90 minutes and if we do that we'll be alright."
West Brom's 3-1 loss to Manchester City on Monday left them three points clear of the relegation zone with four games left to play, and Olsson is keen to guarantee their safety as soon as possible.
He said: "A win would take pressure off. We need to get over that line sooner rather than later. And why not on Saturday? We will focus totally on that and get ready for it.
"Of course it will be a different game to City but we will have time to prepare and make sure we're ready.
"We don't write off any game and we went to City with the intention and belief of getting something.
"When you start thinking about every point being a bonus when you go to City and that becomes your mindset, you have lost the game before you go on the pitch. But there are games coming up when a win is more likely."