World Cup: Everton winger Kevin Mirallas confident of recovery by June
By Kristof Terreur
Last Updated: 18/02/15 3:03pm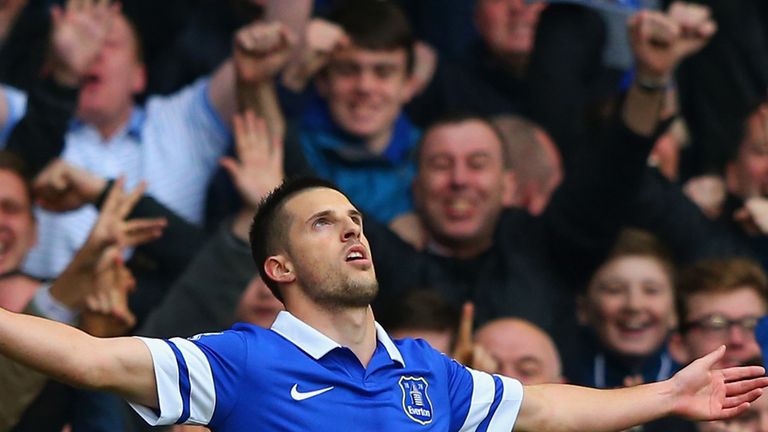 Everton winger Kevin Mirallas has said that he is relieved that he will have recovered from his injury for the 2014 World Cup finals in Brazil.
The 26-year-old Belgium international suffered a small groin tear during the Toffees' 2-0 victory over Manchester United in the Premier League last weekend.
It was initially feared that the problem was serious, but it has now been confirmed that the former Olympiacos player will be out for the rest of the season and will be full fit by June.
"In England, at first they thought I could not play in the World Cup," he told Belgian television station RTBF.
"I was a bit dejected but when I returned to Belgium on Wednesday, I redid the tests and I'm relieved.
"It was confirmed that I was out for three to four weeks. I will work well and I'll be there. I thought the first week would be quiet and I just have a few treatments to follow.
"But I'm already in the process of rehabilitation and we will now work hard with Lieven Maesschalck. It is not easy but it is necessary.
"It's better that it happened now than in three weeks, but I really wanted to finish the championship with Everton. I will miss playing. I wish I was still at Everton as we are still in the race for the Champions League."
Mirallas has also expressed his delight at Manchester United youngster Adnan Januzaj deciding to play for Belgium at international.
However, he believes that the 19-year-old winger may not get a place in the 23-man Belgium squad for the World Cup in Brazil in the summer.
"First of all, I am happy for Januzaj that he has finally taken a decision, as there was a lot of pressure on him," said Mirallas.
"It's good for Belgium as he is a good player. Now, as a lot of people have already said, maybe he doesn't deserve to go to Brazil as he doesn't know the group at all and he hasn't played many games at Manchester United.
"In the last few months, he hasn't played much. But why we should we leave a good player at home? In his positions, we have a lot of players and it will be difficult for him.
"He still has to prove at his club that he is a first choice. For him, Euro 2016 is a better objective."