FIFA: Sepp Blatter disgusted by racism directed at Dani Alves
FIFA president Sepp Blatter has described the act of racism directed at Dani Alves over the weekend as 'an outrage.'
Last Updated: 28/04/14 7:12pm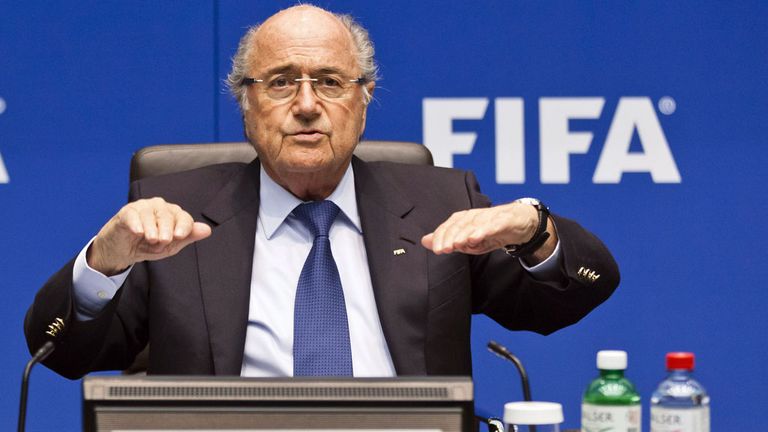 During Barca's trip to Villarreal on Sunday, a spectator threw a banana at the Brazilian just as he was about to take a corner.
Alves responded by taking a quick bite out of the fruit before continuing by quickly taking the corner.
Villarreal have announced that they have identified the culprit and banned him for life.
And now FIFA chief Blatter has made his feelings known with a tweet which reads: "What Dani Alves tolerated last night is an outrage. We must fight all forms of discrimination. Will be zero tolerance at World Cup."
The player himself has said he is 'now used to the abuse after 11 years in Spain' and tends to treat such incidents 'with a dose of humour'.
Sergio Aguero of Manchester City has also turned to Twitter to support Alves whose club team-mate and compatriot Neymar posted a photograph of himself on Instagram holding a banana while writing "We are all monkeys."
And former England striker Gary Lineker has described Alves's response as "brilliant."
The incident occurred in the 75th minute of a match in which Barcelona fought back from 2-0 down to win 3-2.
Barcelona have applauded Villarreal for their reaction and issued a statement saying: "We accept that the perpetrators of these insults are in no way connected to Villarreal and we value very positively the support the club offered to our player.
"The club's immediate condemnation of the incidents is a step in the right direction to firstly isolate and then eradicate completely from the sporting arena this kind of behaviour."