La Liga: Spanish football league find no irregularities over Barcelona's signing of Neymar
Barcelona have announced that the Spanish football league have found no irregularities over their signing of Neymar.
Last Updated: 28/04/14 9:11pm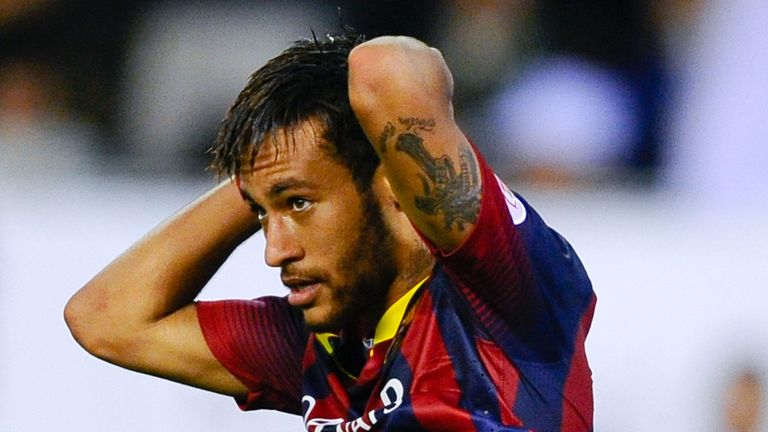 Barca have found themselves embroiled in controversy regarding the finances behind Neymar's move to the Nou Camp from Santos last summer.
In February, the club were charged by the Spanish High Court for alleged tax fraud relating to the different payments made during the signing of the Brazil international.
The Catalan giants have regularly defended their actions over the Brazil international's signing, though, and on Monday announced that - following an investigation - the Liga Nacional de Futbol Professional (LFP) had found no evidence they had done anything wrong in the transfer.
The LFP had been analysing a series of documents given to them by Barca in February and came to the conclusion last week that the club had not broken any of the governing body's regulations in the signing of Neymar.
A Barca statement read: "Barcelona wish to express their satisfaction at the resolution of the Economic Control Committee of the Liga Nacional de Futbol Profesional (LFP) that there is no existence of any irregular conduct committed by Barcelona in the signing of Neymar Jr.
"The Committee met last Wednesday, April 23rd and its decision was published last Friday.
"According to the committee: 'in view of the appeal made to the LFP by Barcelona...there is no evidence of any irregular conduct committed by the club which would have infringed the rules and regulations of the LFP. As a result of this, no further action in this matter will be taken'."
Barca added in the statement: "In a spirit of transparency, Barcelona would like to place on record its complete willingness to continue to provide the committee with any further information related to the signing."