Barcelona's Dani Alves wants Villarreal banana thrower named and shamed
Dani Alves has called for the public shaming of a Villarreal supporter who threw a banana at him on Sunday.
Last Updated: 29/04/14 8:17pm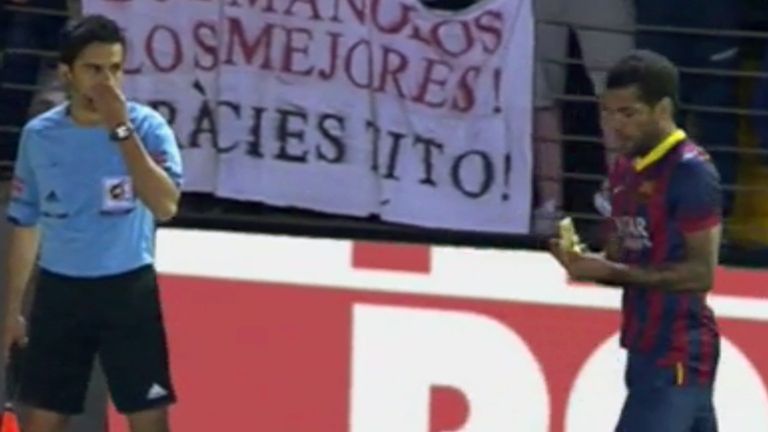 The Barcelona full-back has been widely praised for his reaction to the incident after he picked up the banana and took a bite.
In the meantime, the fan in question has been identified and banned from Villarreal's El Madrigal stadium for life, but Alves would like further action.
"If I could, I would put a photo of the fan on the internet so that he would be shamed," he told Brazil's Radio Globo.
Brazilian Alves also directed criticism at Spain, the country he has called home since 2002, saying: "There is racism against foreigners. They sell the country as being first world but in certain things they are very backward."
The banana incident has led to an anti-racism social media campaign, instigated by Alves' club-mate and compatriot Neymar and already backed by high-profile players like Mario Balotelli and Segio Aguero.
Alves said: "I'm glad to be able to contribute in some way to the betterment of the world.
"It's not only in football, this kind of thing should not exist anywhere. We're in the 21st century, the world has evolved and we must evolve with it.
"I'm glad to have created this effect and hope it serves in some way to put a stop to these types of attitudes."