Pompey pride
Portsmouth captain Johnny Ertl discusses turning a season around and much-needed stability.
Last Updated: 05/05/14 6:58pm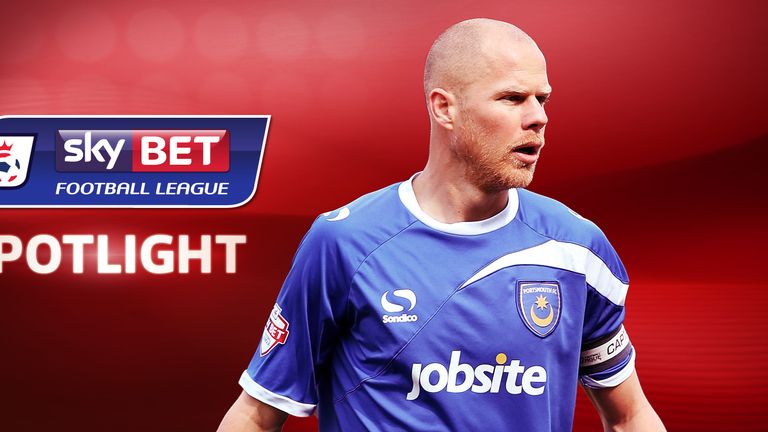 The 2013/14 campaign is now entering the final straight, with divisions beginning to take shape.
Here at Sky Sports, we will look to take you to the very heart of the Sky Bet Football League over the coming months, with our Spotlight features intended to give you a greater insight into the clubs and players that keep us on the edge of our seats.
We hope to bring you the views and thoughts of a representative from each of the 72 teams over the course of the season, with those involved asked to give their take on the division they compete in, the club that pays their wages and those we should all be keeping an eye on.
Portsmouth's Johnny Ertl is next into the hot-seat, with the Pompey skipper taking time out to discuss turning a season around and much-needed stability at Fratton Park with Chris Burton.
What's been behind the upturn in fortunes, because you're going to have ended the season really well?
The last few games have been absolutely fantastic. We've won five games and then drawn the last one away from home. Since the boss came in, it's almost been like a breath of fresh air. He has put a lot of confidence into the team and we have worked hard on the training ground and on the pitch. He knows the club inside out and he has really turned it around.
Is that all it is, a fresh start has got everyone going again?
Definitely. The most important thing is that Andy Awford has been here for 25 years, he played for the club and he knows the people. In my opinion, it is important that everyone is pulling in the same direction and he knows everyone. That's a massive plus. It's now about everyone working together. Being around the place, playing games, it's all going well. We want to finish the season on a high, collect as many points as possible and get as high as we can in the league. We were in a little bit of a difficult position but everyone at the club, the team and all of the staff, have really pulled together to get us out of a tricky situation and make sure that we didn't just stay in the league, but climbed as high as we can.
Saturday was a perfect example of the spirit you have got at the moment wasn't it, 4-2 down with three minutes to play and you snatch a point?
It was absolutely incredible and what a crazy game of football it was. But it just shows in football, even when you are down you are never out. It's a test of character and it shows what spirit can do, the spirit and the confidence of the team. When you go down, you never give up, you pull together and you fight for each other. We went back home with a draw and the travelling supporters were fantastic. There were 1,500 people who travelled all the way to Bury and saw eight cracking goals. It was fantastic for them to see that away from home, they will always remember that. It was an exciting game and we just never gave up until the end.
I imagine you don't want the season to end now do you - you would rather there were 10 games left than one?
Yeah. We said it in training. Obviously a lot of players have already booked their holidays, but we were saying that it can go on! It's funny in a way that in six or seven weeks it has changed around. The supporters have been fantastic, they have created a wall of noise and have given as much support as possible. At our place, when you come down here, you know what it is going to be like. It's unique.
The important thing now is making sure you don't lose that momentum isn't it, you have to carry it through the summer and into next season?
Definitely. That's really important. That's why I said it's important to end the season on the high so that everyone can go back to their families, go on holiday, but still have in mind the need to work for the team and keep performing. You want to have that feeling of winning an enjoying the place where you are. You go away for a couple of weeks, recharge the batteries, and then you come back thinking about last season, everyone pulling together and seeing what can be achieved. We should be looking to really build on something.
It's also important to keep the squad intact isn't it, you don't want too many changes?
Through the whole season there have been a lot of changes and also when you look back a few years before, there are always changes at this football club. What's really important it stability, keeping the core of the team, the traditions that are needed. Andy Awford knows the club inside out, he has fantastic knowledge of football and his man-management is really great. What we need now is stability because Portsmouth is a big club. People come here and think 'We're playing against Portsmouth away from home' and it's always a big game for other teams. We, therefore, have to raise our game. Teams come to Fratton Park with nothing to lose and play with freedom. There has been a lot go on at the club, but right now we are really marching in the right direction. We're going to get a new training ground in October, so all of these bits and bobs that needed to improve will really pay off. Stability will be a key factor, though, along with the experience. We need to carry that into the start of next season, that would be fantastic. Everyone is now pulling in the same direction.
Portsmouth are still a big draw aren't they, you look at people like Nicky Shorey coming in there?
Yeah, Nicky Shorey is a great player. You play against him in practice and you can tell that he has played higher up the leagues because his first touch is very good. He has also enjoyed his time here, so it's good.
You've been at Portsmouth for two years now, does it feel more stable and is the club being owned by the supporters the right move at this time?
Definitely. The club was on the brink of extinction, it was so close to the club going bust. No-one knew what was going on and there was so much insecurity. For a few years, it was just going down and going down and you can't build any momentum. There were so many changes, so many people coming in and out, so right now it was important for the club to get the supporters in - people who care. Everyone on our board loves Portsmouth and supported them when they were young. Right now, we are looking to be successful again. This was going to be a difficult season because you can't expect too much because it's a new set-up at the club. The bookies made us favourites at the start of the season just because we were Portsmouth Football Club, not because we had the financial resources of others. So we were like, 'Okay, where are we right now?' Stability is now the key factor for next season, and we must keep this spirit that we have created right now and take that into next season.
On a personal level, are you happy with how the season has gone?
Obviously there have been a lot of changes. I have played again with a lot of players, but I've been really happy that things turned out on a positive note. It's a great time to be here right now. It's great to work with the manager. He was here when Guy Whittingham lost his job, so he knows everybody, he knows the club and he has the respect of people. I can't ask for any more as a player because the club is in the best possible hands right now.
You signed a three-year contract last summer, there aren't too many of those around in League Two are there so that was a nice show of faith from the club?
I'm really grateful. As soon as I walked through the door this became a club close to my heart. It's a community club, we do a lot of things for the community, and that's fantastic. I'm really settled in this area and it's a fantastic club. I couldn't ask for more.