FA Cup: Cult hero Per Mertesacker determined to give Arsenal fans a trophy this weekend
Per Mertesacker is determined to give Arsenal fans a trophy to celebrate this weekend, with victory in the FA Cup final.
Last Updated: 17/05/14 9:55am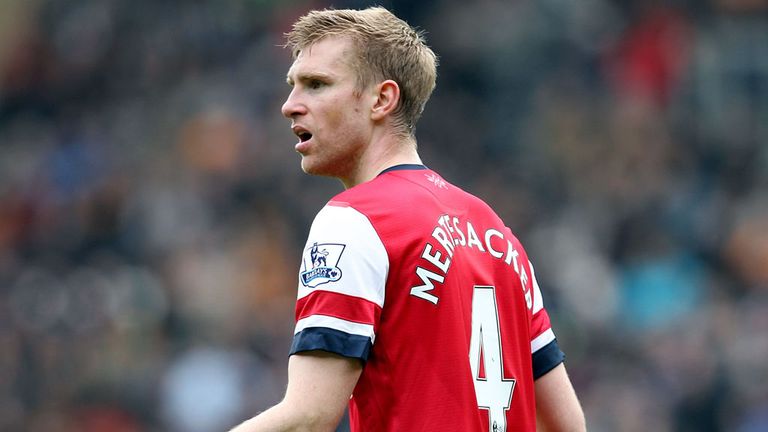 Few could have foreseen the giant centre-back becoming such a popular figure when he arrived during a flurry of late transfer activity in August 2011.
While the likes of Park Chu-young and Andre Santos flopped, Mertesacker recovered from a difficult first season in north London to establish himself at the heart of the Gunners defence.
Paying tribute to supporters, ahead of Arsenal's attempt to end a nine-year drought without a trophy at Wembley, Mertesacker said: "I had a hard first season but they encouraged me so I have to give them credit.
"Especially in my first season they always covered me and always backed me up and gave me that bit of confidence you need as a player.
"(Winning the cup) would mean a lot, that would be a big step for our team.
"We went through a lot of difficulties. We were top of the league, then we dropped points and then came back to fourth position. We want to keep our run now.
"We won five consecutive games, we want to continue with that (on) Saturday. That is really important. It looks like we are back on track. We have to keep our focus."
Mertesacker will be cheered on at Wembley by friends and family, including brother Timo who bears a striking resemblance to the defender and has a penchant for going on Arsenal away trips.
"He does it just to improve his English and get on with away fans," he said. "It's a good experience to get.
"He just loves it and, when he has time, he comes over just for away games."
Mertesacker's friends and family will be hoping to see the defender collect his first silverware in five years this weekend.
He missed Werder Bremen's German Cup success in 2009 through injury but still took home a medal thanks to the decisive goal from Mesut Ozil.
The Germany internationals are now plying their trade together again in north London and the playmaker is beginning to impress once more after a mid-season slump.
"We are happy that we have him back in our squad and available because you could see from the start that he is one of the best players in Europe," Mertesacker said.
"His contribution and his assists are vital for any club, so we are happy to have him back.
"I knew before he would suffer at some moment in his first Premier League season, so we are happy that he is fit again and that he has got a few games under his belt to go now to Wembley and show everything."