Premier League: Liverpool boss Brendan Rodgers determined to improve squad
Liverpool manager Brendan Rodgers is desperate to improve on last season and recruit new talent.
Last Updated: 22/05/14 6:08pm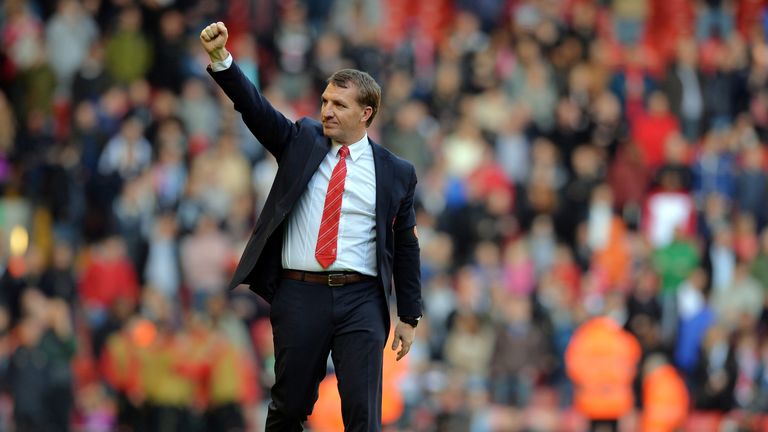 Despite stumbling at the final hurdle in the Premier League allowing Manchester City to secure the title, it was still a magnificent season for the Reds as they qualified for the Champions League for the first time in five years.
However, cementing the team's place in the top four is not enough for the ambitious Northern Irishman and he is working hard on bringing new players to Anfield to ensure they continue the challenge for honours.
"There is certainly no complacency," said Rodgers who will be hoping there is a swift conclusion to their move for Southampton midfielder Adam Lallana.
"You can't take your eye off the ball and this is an ever-evolving league which gets better every season. We need to draw on the positives of this season, of which there are many, and we need to add players who can improve us as that is key.
"You have to retain your hunger so you bring in players with that profile as well as the tactical and technical intelligence. We had a three-hour recruitment meeting last week and as much as we have had a good season we want to go one better next year."
Rodgers believes the players who went through the experience of a title challenge will be stronger mentally next season.
He told LFCTV GO: "I think every title run-in will always have the pressures that come with it and we have shown we can cope with it, winning 12 out of 14 games which is a monumental effort.
"We picked up 37 points from 42, a remarkable number of points. We took it as a compliment as staff and players that we were being talked about as title winners.
"We had obviously excited people by our football. That showed the significant progress we were making."
The agent of Fabio Borini, who had an impressive season on loan at Sunderland, does not expect the striker to leave Anfield this summer despite interest from the Black Cats and abroad.
"I know for certain there is interest not just from them (Sunderland) but there have been approaches from several countries, including Italy," Marco De Marchi told Calciomercato.it.
"I have not spoken to Brendan Rodgers yet but the player is tied to Liverpool for another two years and at the moment I don't see that he could leave.
"Anyone who wants Borini will have to talk to Liverpool but I know he would like to continue his Premier League adventure because it's a style of football that suits him perfectly."