Champions League final: Chelsea's Andre Schurrle regrets not reaching Lisbon
Last Updated: 23/05/14 11:15am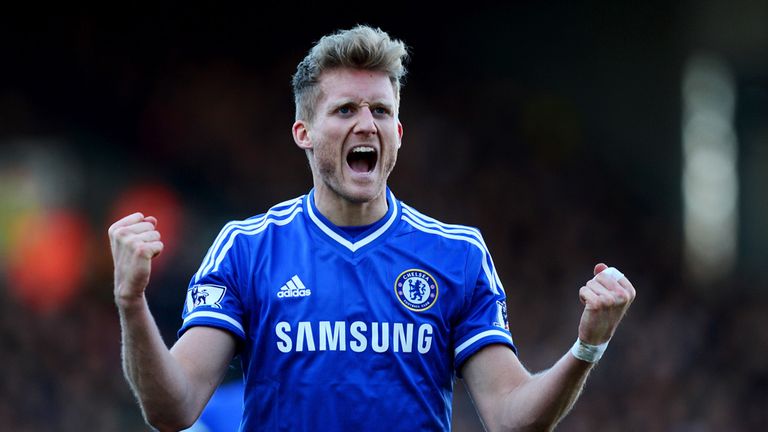 Chelsea's Andre Schurrle admits he will be full of regret when he watches Saturday's Champions League final in Lisbon.
Spanish rivals Atletico Madrid and Real Madrid will lock horns in a battle to be crowned European kings, with the game live on Sky Sports 1HD.
Diego Simeone's La Liga champions booked their place in the final after overcoming Jose Mourinho's Chelsea 3-1 over two legs, with all the goals coming in the Stamford Bridge leg after a goalless draw in Spain.
Chelsea's campaign unravelled after the defeat to Atletico, as Norwich held on for a 0-0 draw in the following game to put a huge dent in the Blues' Premier League title bid.
Schurrle, who scored in the final-day win at Cardiff City to ensure they at least finished on a high note, has promised Chelsea will 'come back stronger next season'.
But he admits he will be wondering what could have been when he watches the European showpiece on Saturday.
Schurrle told the Daily Star: "We're disappointed because we didn't win anything and I hope we come back stronger next season.
"Third place in the league is not where we wanted to end up and when you get to the Champions League semi-final you want to go on and win the title.
"Of course I will watch the final but I will think 'I could have been there' so I won't watch it with the biggest interest.
"It all went wrong for us in one week. We lost to Atletico and then drew at home to Norwich.
"But I think we lost the title in the games against teams like Aston Villa, Sunderland and Crystal Palace.
"We didn't play well against the teams lower in the table. That's where we lost it. We need to be ruthless in these matches, to be strong, and then they will have no chance.
"They will see when we come on the pitch that we have the will to win and they will see they don't have a chance against us. We need to leave no doubts.
"That is what we had in many matches last season. Even when we won it was not always clear. That's what we need to change next season.
"We almost won both competitions but didn't win either. That is the disappointing thing."
Schurrle arrived in London in an £18million move from Bayer Leverkusen and enjoyed playing under Mourinho, making 25 starts and scoring 13 goals.
He added: "What I like the most about him is it's only about winning. He hates to finish second or even third like we did.
"Right now he hates it. He talks honestly to the players and I can imagine what he will be like next season. For sure he will not finish third again next time."