Manchester United's Tom Lawrence looking to impress Louis van Gaal on Wales debut
Tom Lawrence is excited about the prospect of making his Wales debut against the Netherlands.
Last Updated: 03/06/14 3:30pm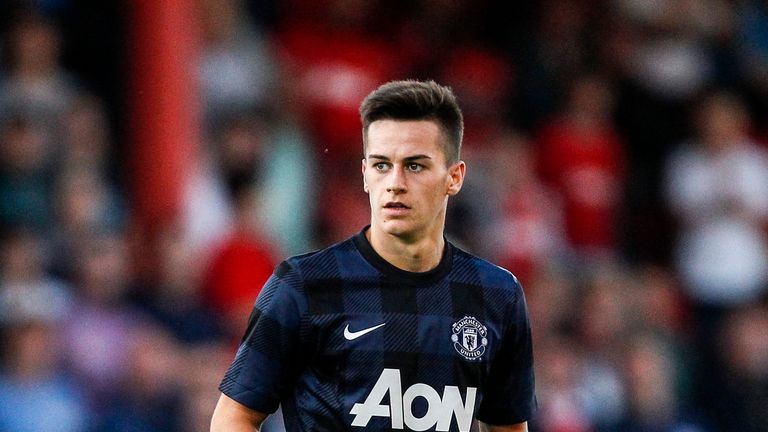 Van Gaal will step down as manager of the Dutch national team after the World Cup and take charge at Old Trafford, where Lawrence hopes to be a part of his plans.
The 20-year-old forward made his first appearance for United in May's 3-1 Premier League win over Hull City, and his development is set to continue with an international bow for Wales on Wednesday.
"If I play it could be an early chance to catch his eye which will be great but I'm sure he'll be concentrating on the World Cup," Lawrence told Wales Online about Van Gaal.
"If you had said to me a year ago I would be hoping to play for Wales against Holland in Amsterdam I probably wouldn't have believed you, but that's the way this season's been for me, it's been unbelievable.
"Making my debut for Manchester United was a dream come true and now the chance to play for Wales is fantastic.
"It's a bit ahead of schedule; the plan was to continue to develop with the Under-21s with United and Wales but when the chance comes you want to catch the eye.
"It's good just being around the squad and obviously a game like this is massive and great experience.
"But it would be good to have more than just a feel of being in the squad, I want to play games and make my mark and I feel I can do that."
Lawrence was the man replaced when Ryan Giggs came on for his Old Trafford farewell against Hull, and he says his fellow Welshman has always been an inspiration.
"He's a great influence," Lawrence said. "It's good that he's still going to be there at United as he obviously believes in me because he gave me my debut. Hopefully I can repay him and United by showing him my talents and how good I can be.
"It was nice to be the one he replaced in his last game. It was a bit of a surprise but I didn't have much time to get nervous about it.
"The manager called me into the office the day before and said I was in his plans but I didn't know if I was going to be coming off the bench, let alone starting. To then get the nod was incredible. I prepared myself right and hopefully did myself justice.
"Ryan's a great inspiration because you look up to the best players and Ryan Giggs is definitely one of those, having made so many appearances and achieved so much on every level.
"Hopefully I can have a little bit of that myself, which would be nice."