Jose Mourinho and Man Utd are the talk of football; here's a timeline since the Portuguese left Chelsea
By Peter Smith
Last Updated: 21/02/16 12:57pm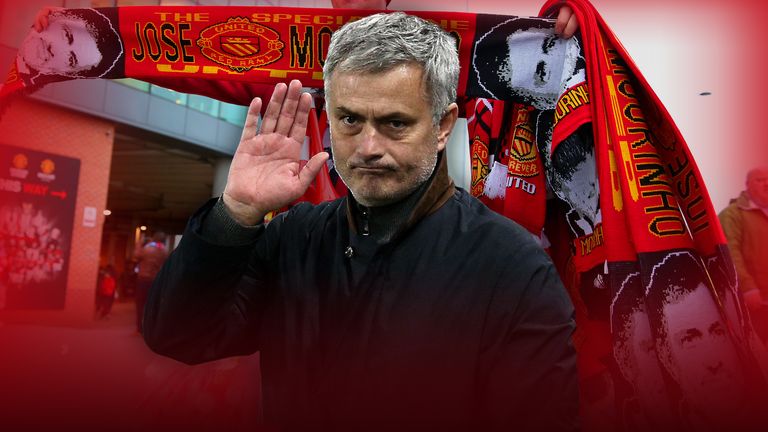 A timeline of events involving Jose Mourinho, Louis van Gaal and Manchester United, since the Portuguese left Chelsea in December.
Mourinho continues to be heavily linked with the Old Trafford hotseat after United's latest results - a Premier League loss to struggling Sunderland followed by a humbling Europa League defeat to Midtjylland - maintained the pressure on Van Gaal.
Here we trace events on and off the pitch and track media speculation that has steadily intensified...
December 17, 2015: Mourinho leaves Chelsea by 'mutual consent'. "His three league titles, FA Cup, Community Shield and three League Cup wins over two spells make him the most successful manager in our 110-year history," read the official Chelsea statement. "But both Jose and the board agreed results have not been good enough this season and believe it is in the best interests of both parties to go our separate ways."
December 19, 2015: Manchester United lose a third game in a row, as Norwich secure their first win at Old Trafford in 26 years, sparking speculation in the press that Van Gaal would be sacked.
December 23, 2015: "Has anybody in this room not a feeling to apologise to me? That's what I am wondering," says Van Gaal in his pre-Boxing Day press conference. "I think I was already sacked, I have read. Or have been sacked. Or that my colleague [Mourinho] was here already. You have to stick by the facts, and when I get calls from Ed Woodward, Sir Alex Ferguson and David Gill, because you are creating something that is not good, that is not the facts, and now I have to answer questions. I don't think I want to do it."
December 26, 2015: Manchester United lose for a fourth time in a row. "The club doesn't have to fire or sack me - sometimes I do it by myself," offers Van Gaal, before giving his Sky Sports interviewer a long stare. 
United captain Wayne Rooney had earlier told Sky Sports: "We are working hard, we are fighting with the manager to try and get the results and turn this season around."
December 28, 2015: Ahead of Manchester United's home game with Chelsea, Mourinho scarves are on sale outside Old Trafford - but his agent, Jorge Mendes, tells Sky Sports in Italy: "Mourinho is now in Brazil. Let's see what will happen when he returns. Jose has to feel comfortable because he is the No 1 in the world."
Following a 0-0 draw with Chelsea, Van Gaal says: "When the players can give such a performance with this lot of pressure then it is not any reason to resign for me. Inside of the club the players are willing to fight for every metre, the manager is willing to fight, the members of staff are willing to fight and the board is very confident in the staff and the manager so it [the negativity] is not inside Manchester United."
January 4, 2016: Manchester United end their eight-game winless run with a 2-1 victory at home to Swansea. "I shall think that now the pressure is lowering, the performance shall be better every week," says a relieved Van Gaal.
Apparently Mourinho did not like to come [to Real Madrid] at this time of the season.
Former Real Madrid president, Ramon Calderon
January 6, 2016: Former Real Madrid president Ramon Calderon tells Sky Sports News Mourinho was contacted by the club before they made Zinedine Zidane Rafa Benitez's successor at the Bernabeu. "Apparently Mourinho did not like to come at this time of the season," he claims.
January 17, 2016: United beat Liverpool 1-0 at Anfield, moving within seven points of league leaders Arsenal. Van Gaal says winning the Premier League is not beyond his side. "To beat Liverpool is always important. Today it was important because our competitors lost points and when the gap at the top is like this we can overturn that. That is what I'm thinking."
January 22, 2016: Manchester United deny a report in French newspaper L'Equipe that officials from the club held a meeting with Pep Guardiola.
January 23, 2016: United lose 1-0 at home to Southampton and newspapers claim Van Gaal offered to resign later that evening - but Sky Sports News reporter James Cooper says no such offer was made.
The result leaves United with their lowest Premier League points total after 23 games. In only eight seasons in their 138-year history had United scored fewer than their 28 goals after 23 league matches.  
"I'm very disappointed that I cannot reach the expectations of the fans," Van Gaal says. "They have - or they had - great expectations of me, and I cannot fulfil them, so I am very frustrated because of that."
Van Gaal promptly returns to the Netherlands to celebrate his daughter's birthday, giving the players a day off from training on the following Monday.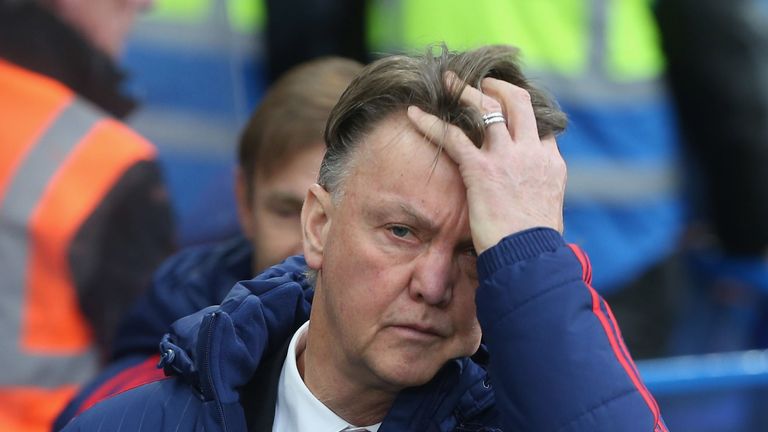 January 24, 2016: A report in the Independent on Sunday claims Mourinho sent a six-page missive to Manchester United, outlining why he would be the right man to replace Van Gaal.
Mourinho's agent Mendes releases a statement saying the claims are "absolutely ridiculous and totally absurd" and "It does not occur to anyone that a coach like Jose Mourinho can write letters to clubs offering their services."
January 29, 2016: After an FA Cup win over Derby, Van Gaal says: "I liked the performance in the first half, it had a lot of confidence and that is back which is very important."
February 1, 2016: Manuel Pellegrini announces he will leave Manchester City at the end of the season and the club confirm Pep Guardiola will be his replacement.
Manchester United make no deadline day transfer signings, meaning they did not add any players to their squad during the window.
Meanwhile, Mourinho refuses to answer questions from Sky Sports News on Manchester United.
February 2, 2016: Manchester United turn on the style to beat Stoke 3-0 at Old Trafford, a little over 24 hours after neighbours Manchester City announce Guardiola's appointment. "It was a great performance," Van Gaal tells Sky Sports.
February 3, 2016: Sky Sports in Italy reporter Alessandro Alciato tweets: "Mourinho - Manchester United: deal close. The derby with Guardiola of City!"
February 6, 2016: Van Gaal says ahead of his side's Super Sunday clash with Chelsea: "There has been such nonsense created about me. I don't believe that there is already a relationship between Jose Mourinho and Manchester United."
February 7, 2016: In Mourinho's first TV interview since leaving Chelsea, he tells Sky Sports he wants to remain in England, but, despite his family staying in London, he will have to move for his next job. "I will be back soon," he says. 
At Stamford Bridge, a 1-1 draw between United and Chelsea leaves Van Gaal's side six points off fourth. The following day Manchester United's share price dipped to its lowest level in more than three years
February 10, 2016: Four newspapers report that Mourinho has 'told friends' he is convinced the Manchester United job will be his.  
February 11, 2016: National newspapers report that Mourinho is set to land a three-year, £15m-a-season deal to replace Van Gaal and that he is keen to bring in Atletico Madrid sporting director Andrea Berta. However, Sky sources understand United are happy with Van Gaal as their manager.
February 12, 2016: In an interview with The Independent, Van Gaal says he does not believe United have been in contact with Mourinho. "I have spoken with [executive vice-chairman] Ed Woodward and I cannot imagine that he and Jose Mourinho have spoken with each other," he said. "I think that if they speak with another manager, they would tell me because our relationship is like that." He later claimed the media had been "inventing stories". 
February 13, 2016: Van Gaal cuts a downbeat figure after United suffer a 2-1 loss at Sunderland, slipping six points off the top four. The Dutchman admits it will be "very difficult" to finish in the Champions League places - and reckons his side's best route into Europe's top club competition will be trying to win the Europa League.
February 14, 2016: Former United boss David Moyes warns Van Gaal that failure to qualify for the Champions League is not likely to be accepted. "Manchester United need to be there," Moyes tells Goals on Sunday. "They are a club of status and want to be at that level, if not more. They want to be winning it if they can, never mind qualifying for it."
Newspaper reports also fire a warning, suggesting that 'dithering' by the club could cost United the chance of snaring Mourinho. The Sunday Times claims Old Trafford chiefs have failed to offer Mourinho verbal or written assurances over the job - and that could see the Portugese turn his attention elsewhere.
February 18, 2016: United and Van Gaal slump to a fresh low after a humbling 2-1 Europa League first-leg defeat to Danis minnows Midtjylland. The beleaguered boss blames 'Murphy's Law' for the defeat - bemoaning a growing injury list - but admits he agrees with fans who chanted how poor their side had been. 
February 20, 2016: Doorstepped by reporters as she leaves a restaurant following a meal with former Inter boss Mourinho, club director Bedy Moratti - sister of ex-Inter president Massimo Moratti - tells reporters Mourinho is "going to Manchester."
"He's missed as a person, but right now he's happy, he's going to Manchester," she says.
Sky Sports Guillem Balague understands that there is still no deal in place between the former Chelsea boss and United - but Moratti's claim gives new impetus to already-widespread reports.. 
Is Mourinho the right fit for United? United fans, would you want him? Would Champions League football earn LVG another season? Please tell us what you think by giving us your comments below or alternatively, why not Tweet us @skyfootball