Hillsborough families to sue police forces
Last Updated: 28/04/16 5:08pm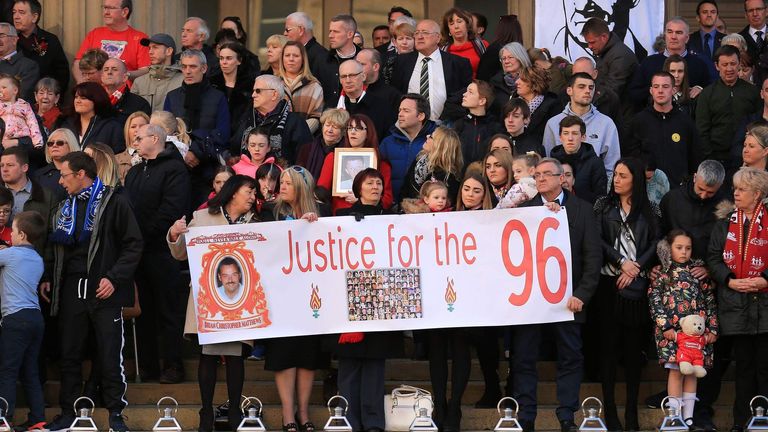 Hundreds of families of Liverpool fans involved in the Hillsborough tragedy are to bring a class action against South Yorkshire and West Midlands police forces.
Both forces being pursued by relatives of the victims - and survivors - are accused of "a systematic cover-up" in the civil claim which alleges "abuse on an industrial scale".
Sky Correspondent Martin Brunt said: "Something like 386 are joined together in a class action. They are suing the forces for damages."
It was issued at the High Court last year, but could not be reported until the outcome of the inquests.
"We are still not allowed to know the specific details, and the forces have up to seven months in which to respond," said Brunt.
Saunders Law, a London-based legal firm, is coordinating the action.
James Saunders, senior partner, told Sky News: "There is evidence of a systematic cover-up intended to transfer the blame for what happened from South Yorkshire Police to the innocent by spreading lies, doctoring evidence, pressurising witnesses and suppressing the truth.
"The evidence points to abuse on an industrial scale by both South Yorkshire and West Midlands Police beyond any one bad apple analysis.
"In addition to actions by individuals the evidence suggests institutional misfeasance by these bodies directed against our clients and the fans generally."
It comes as former South Yorkshire Police officers were reportedly told they "did a good job" during the 1980s in a message that mistakenly appeared on a website in the wake of the Hillsborough inquest findings.
The retired officers are understood to have been told they had tried to act with dignity while "bile and hatred" had been directed towards the force - which has come under severe criticism for its response to the tragedy.
The inquest jury ruled the 96 fans who died in the disaster were unlawfully killed - and that the behaviour of supporters was not a factor in the tragedy at the 1989 FA Cup semi-final.
Jurors also concluded blunders by the police and ambulance services "caused or contributed to" the deaths.
Two investigations into the tragedy are under way, one a criminal probe into the deaths called Operation Resolve. The other is being carried out by the Independent Police Complaints Commission.
A decision on whether to bring prosecutions will be taken once investigators have handed in their reports to the Crown Prosecution Service, likely in three to six months' time.