Ref Watch: Wayne Rooney and Zlatan Ibrahimovic incidents analysed by Dermot Gallagher
Last Updated: 16/01/17 3:49pm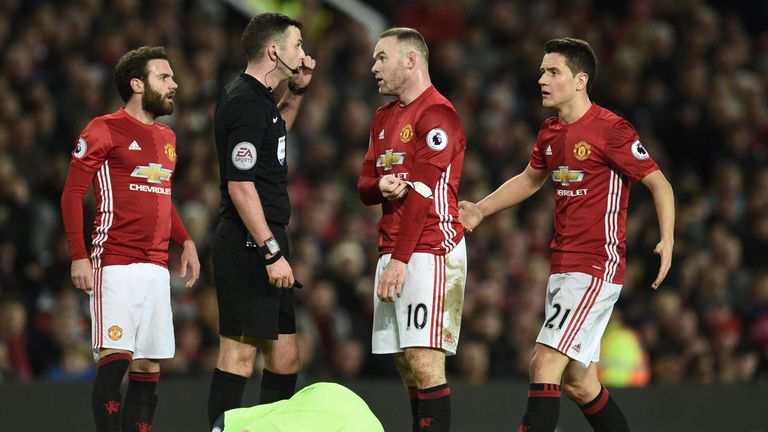 Dermot Gallagher gives his verdict on the controversial incidents from the weekend games in the Premier League, including from an action-packed clash at Old Trafford.
We asked Gallagher to analyse several of the controversial calls from across the weekend, from Zlatan Ibrahimovic's equalising goal to Ki Sung-yueng's diving incident.
INCIDENT: Zlatan Ibrahimovic equalises for Manchester United
SCENARIO: Antonio Valencia takes a quick throw and then receives a quick pass back but looks offside. However, the linesman doesn't see it as he's at an impossible angle. The play develops and Ibrahimovic scores.
DERMOT'S VERDICT: Offside - but has sympathy for linesman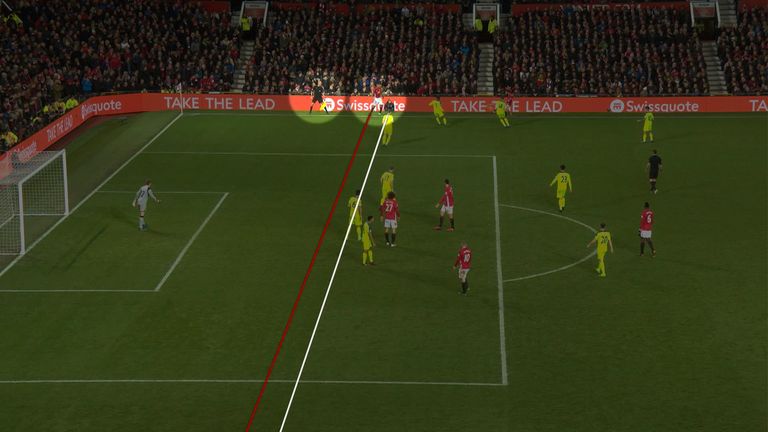 DERMOT SAYS: Valencia takes a quick throw and the linesman has to step quickly out of the way to avoid getting struck with the ball. Then as the play develops quickly, he's not in a position to see the offside. It's unfortunate as by the time he's back into position, the ball had been crossed.
INCIDENT: Referee Mike Jones penalises Paul Pogba for handball and awards Liverpool a penalty
SCENARIO: A corner comes in from the left and Pogba is, arguably, blocked off, which leaves him struggling to keep tabs with Dejan Lovren, who he's supposed to be marking. He clumsily throws his hands into the air and the ball hits them.
DERMOT'S VERDICT: Correct call
DERMOT SAYS: If you're going to give a penalty, this is one of the easy ones. For whatever reason, Pogba has panicked - he got in the wrong position. He's gone to punch the ball - badly.
INCIDENT: Both Roberto Firmino and Ander Herrera are booked after an altercation
SCENARIO: With the game heading towards stoppage time, Firmino sparks a counter attack through the middle of the pitch, which has United on the back-foot and outnumbered. Herrera grabs hold of his shirt to stop the attack and Firmino reacts by pushing him in the chest.
DERMOT'S VERDICT: Correct call
DERMOT SAYS: It's really cynical from Herrera and it's upset Firmino. He's reacted aggressively and angrily - but he hasn't hit him in the face. The new directives are interesting about the line between being aggressive and being violent. Firmino hasn't been violent. They both quite rightly picked up yellow cards. I thought the referee was excellent.
INCIDENT: Wayne Rooney fouls James Milner, who stays down hurt
SCENARIO: Rooney rakes his studs down Milner's lower shin but although a foul is given, Rooney escapes any further punishment.
DERMOT'S VERDICT: Yellow card
DERMOT SAYS: It's not a nice tackle. However, it's a low one and that convinced the referee that it's just a foul. When you look at the replays, it's a foul and a yellow card. It wasn't like the ones we've seen recently where players studs are up and going into the shin. It was mistimed. That's what saved Rooney.
INCIDENT: Raheem Sterling goes down in the area after Joel Robles comes flying out of his goal
SCENARIO: With the game at 0-0, Kevin De Bruyne races down the left and fizzes a cross in for Sterling. His touch takes him away from Joel, whose momentum catches the Man City man. No penalty is given.
DERMOT'S VERDICT: Unsure
DERMOT SAYS: This is one of two penalty calls at the weekend, along with Ki at Swansea, that would need a video assistant to look at it from all the different angles and he would still be undecided. Different angles produce different decisions. I think what clouds the judgement of the referee is that Leighton Baines slides in, which makes it a tough call as he's got two players coming in. He has to decide which player fouled Sterling - if any - and which didn't.
INCIDENT: Kevin Mirallas makes it 2-0 to Everton
SCENARIO: Yaya Toure's loose pass was picked up by Romelu Lukaku, who fed Ross Barkley, who in turn squeezed the ball through for Mirallas. The Belgium international, who had to check his run sharply, had time to drill the ball past Claudio Bravo and into the bottom corner. He was deemed onside.
DERMOT'S VERDICT: Correct call
DERMOT SAYS: This is a great call. Everybody thought it was offside but from sideways on, you can see it's onside. We talk about tight, tight, calls and that's one of them.
INCIDENT: Romelu Lukaku and Nicolas Otamendi clash right in front of the dugouts
SCENARIO: Trailing 3-0 in stoppage time thanks to goals from Lukaku, Mirallas and local lad Tom Davies, Otamendi reacts angrily to a confrontation with Lukaku, and as soon as the Belgium international makes minimal contact, Otamendi takes a rather theatrical fall to the floor. Both players were cautioned by referee Mark Clattenburg for their troubles.
DERMOT'S VERDICT: Correct calls
DERMOT SAYS: What we want to see is consistency and this is similar to Firmino's reaction at Old Trafford. Lukaku hasn't hit Otamendi in the face or head. I think the referee has done really well. It's a yellow card for both players - Lukaku for his reaction and Otamendi for simulation.
INCIDENT: Ki goes down in the box under a tackle from Laurent Koscielny
SCENARIO: With the game at 1-0, Ki bursts into the box and hits the deck as Koscielny leaves his leg dangling after the ball had gone. The referee books Ki for simulation.
DERMOT'S VERDICT: Wrong decision but supports the referee
DERMOT SAYS: I was sat with five people on Saturday watching this one and two thought it was a penalty, two thought it was a dive and one sat on the fence and said he wouldn't be a referee. You watch it over and over again, the decision could go either way. He doesn't have to book Ki but in this case he has to ask the question if it's not a penalty why has he gone down? I thought the knees collided but the referee didn't.