Luis Enrique: PSG win took its toll on Barcelona in Deportivo defeat
By Reuters Sport
Last Updated: 13/03/17 10:03am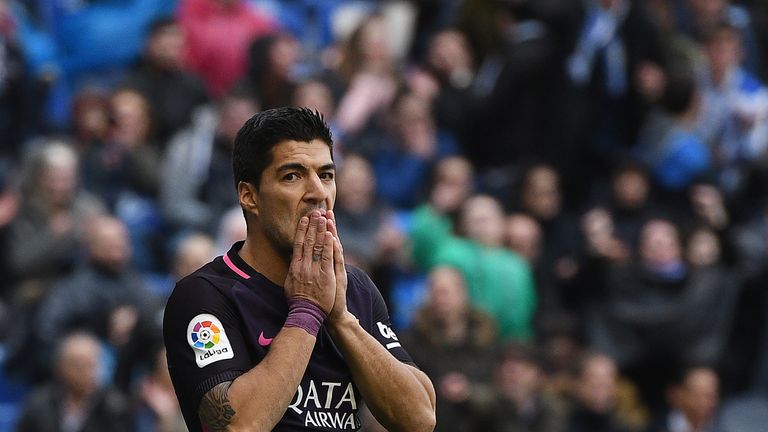 Luis Enrique said Barcelona's exertions in their memorable midweek 6-1 Champions League win over Paris St-Germain played a part in their shock 2-1 defeat to Deportivo La Coruna on Sunday.
Barca were looking to extend their lead at the top of La Liga to four points, but instead lost in the league for the first time since October 2 on a ground where they won 8-0 last year.
Luis Suarez equalised soon after half-time for the visitors, but Alex Bergantinos headed in the winner in the 74th minute to bring Barcelona back down to earth after their dramatic comeback against PSG on Wednesday.
"Only someone who has lived what we lived this week can understand what it means, but professionals need to know how to cope with these situations," said Luis Enrique.
"We knew it would be difficult here but what happens before a game always has an impact in the next. It's better to arrive at a game feeling euphoric than pessimistic, we were focused, but we still lost."
Luis Enrique said he was disappointed his side could not build on the momentum gained from winning five games in a row and scoring 17 goals in their previous three.
"We lacked clarity in the final few metres and it's a shame because this game was crucial to keep our confidence high and for our rivals to see that we mean business," he added.
"We didn't have the fluidity we needed to overcome their deep defending. They grew in confidence and we made errors. Today it was crucial that we scored first but they did. We have to accept this defeat and remember there's a lot of games left."
Barca defender Gerard Pique added the comeback against PSG, where they overcame a 4-0 first-leg defeat to win 6-5 on aggregate, had taken its toll.
"Sport is like this, we aren't machines and after the effort we made on Wednesday it was very difficult to compete again. We have to congratulate Deportivo, they were the deserved winners of this game," he said.
Pique also tried to put the week in perspective, saying: "Every Barca fan would have signed up to coming back against PSG and then losing in Coruna.
"We'll continue to fight for the league title until the end. There's still a long way to go and we'll have chances to win it."