Gillingham's Josh Wright on matching Ronaldo with hat-trick of penalties
By Nick Lustig
Last Updated: 13/03/17 12:30pm
Prior to Saturday, it would have been difficult to find too many parallels in the careers of Gillingham midfielder Josh Wright and Brazil World Cup winner Ronaldo.
However by 4.45pm on Saturday, Wright had etched himself into the history books and joined the former Real Madrid and Barcelona forward in a select group of players to have scored a hat-trick of penalties.
Ronaldo notched his treble of spot-kicks for Brazil in a World Cup qualifier against Argentina in 2004, while Wright netted a nine-minute hat-trick inside a sensational final 13 minutes as Gillingham came from 2-0 down to claim a 3-2 win over Scunthorpe.
"Somebody reminded me of that last night, I had actually forgotten about that [Ronaldo's hat-trick]. Listen I was just delighted to score the penalties and to get the three points," Wright told Sky Sports News HQ.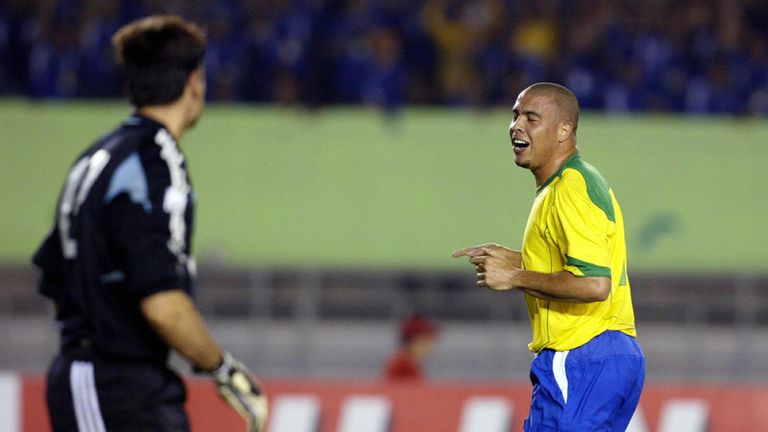 "A lot of people are telling me different kind of stats and I am sure that will continue as the weeks go on.
"It's fantastic, he [Ronaldo] did it on the highest of levels against a top side like Argentina, but I was delighted to do it for Gillingham, myself and the team.
"Like I said, to get the three points was the biggest thing and it will be a day I'll never forget and my family will never forget.
"I was over the moon with it and who knows whether it will happen again to me or anyone else. I was just happy to get the hat-trick and the three penalties."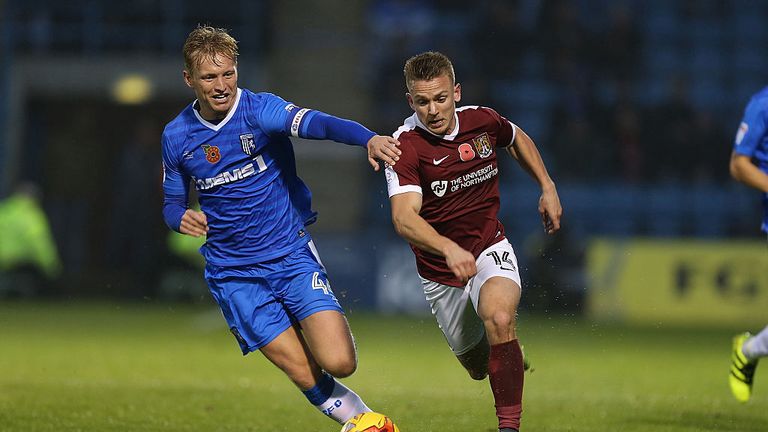 Penalty one - 77th minute
We said as a group and as a team when we went 2-0 down that if we get one, we know what can happen in football.
Obviously that penalty came and I thought if I can stick this away it's going to put pressure on Scunthorpe.
They're suffering with their form at the moment and obviously I dispatched it away. I was delighted to score and within no time, another one came.
Penalty two - 82nd minute
A lot of people have asked me over the last couple of days, were you nervous? What one was the worst one to take? If I am being honest, it was the second one.
I was confident I was going to score the first one. I stepped up for the second one, but I had debated giving it to another player.
Quite often that has happened, Lionel Messi did it last week when Barcelona were playing Paris Saint-Germain. He took one, scored it, and didn't take the second.
But the type of person that I am and the type of player that I am, I believe in myself and I was confident that if I stepped up I would stick it away.
Of course, you debate where you are going to put it, but I had an idea where I was going to put it. Sometimes the goalkeeper moves a little bit early and that can make your mind up. Again, I was delighted to see it hit the back of the net.
Penalty three - 86th minute
I won the penalty. The ball had dropped on the edge of the box and I just beat the man to the ball. I took it past him, he clipped me on my foot and I went over. The boys celebrated with me before I had even stepped up to take the penalty.
I tried to keep my cool, I kept them away from me and I was just thinking at that stage, what a fantastic opportunity to get the hat-trick.
There was no way I was going to let someone else take the penalty. Again, I picked my corner and tucked it away nicely. I went off celebrating and the rest was history as they say.
In fact, Wright became the first player to score a hat-trick of penalties in an English league match since Ken Barnes did the same for Manchester City in a 6-2 victory over Everton in 1957.
Wright has enjoyed his most productive season in front of goal, netting 12 times in 40 appearances for a Gillingham side that have struggled in Sky Bet League One this season.
However, he will miss Gillingham's next two matches against Bolton and Rochdale due to suspension, having picked up his 10th booking of the season in the aftermath of scoring his third goal against Scunthorpe.
The 27-year-old was named the Gills captain at the beginning of the season by former manager Justin Edinburgh, but has since flourished after being pushed into an advanced midfield role by new boss Adrian Pennock.
Wright, who has made 119 appearances at Championship level for Charlton, Scunthorpe and Millwall, has 15 months remaining on his contract at Gillingham.