Manolo Gabbiadini: Southampton won't dwell on EFL Cup final loss
By Richard Morgan
Last Updated: 19/03/17 2:22pm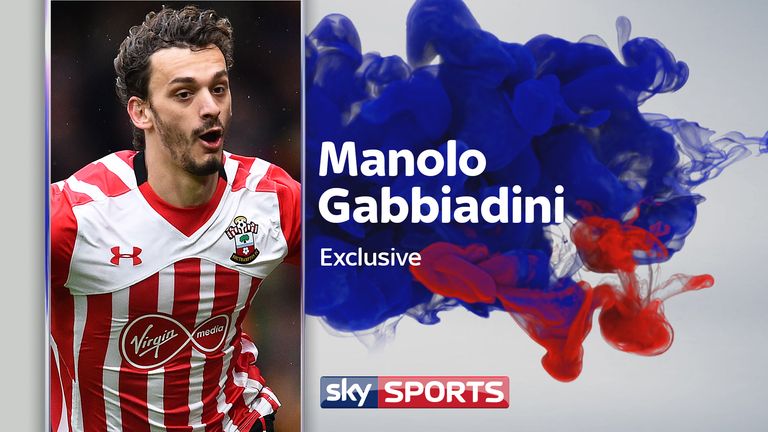 Southampton are over the pain of losing the EFL Cup final as they prepare to face Tottenham Hotspur on Super Sunday, according to their record signing Manolo Gabbiadini.
The Saints were beaten 3-2 by Manchester United at Wembley last month, with Gabbiadini denied a hat-trick in the showpiece encounter after having a 'goal' wrongly ruled out for offside.
However, the striker does not want to dwell on that incident, preferring instead to focus on the remainder of the season with his new club, starting with Sunday's clash with high-flying Tottenham at White Hart Lane, live on Sky Sports.
"We have regrets because we could have won and we didn't," said Gabbiadini in an exclusive interview with Sky Sports.
"But I have mixed feelings, positive and negative, because it was nice but, at the same time, bad because we could have won and we wanted to win.
"If the first 'goal' hadn't been disallowed, we would have been 1-0 up, we would have been winning 1-0 and the whole game would have changed.
"So we have regrets, but here in England, you don't think about this. The game was three weeks ago, the referee decided to rule out the goal, so, what's done is done! I don't want to think about the disallowed goal."
Gabbiadini swapped Napoli for the Saints in the January transfer window in a deal that cost the Premier League club an initial £14.5m, plus £2.5m in add-ons.
However, the forward has taken no time at all to settle in at St Mary's, scoring an impressive six times already in just four games in all competitions.
And the Italy international, who does not speak much English, says he prefers to do his talking on the pitch after his impressive start to his career on the south coast.
"I don't really like to talk about myself, so I prefer to let what I do on the pitch speak for itself," said Gabbiadini.
"For now, you've only seen four games and there will be more, so I'll let you decide and judge [what his main strengths are]. I don't like to speak about myself."
Gabbiadini made an instant impact with his new club after scoring on his Premier League debut in a 3-1 loss to West Ham at the start of February.
Three more league goals have since followed in wins against Sunderland and Watford, as well as that double at Wembley, making the forward the first player to net in his first four matches for the Saints.
In England, when you have the ball, you always want to attack and score. If you are 3-0 up or 3-0 down, you always want to attack
Manolo Gabbiadini
The 25-year-old, though, says it is his Southampton team-mates who he has to thank for his flying start to life in England.
"I need to thank the whole team that puts me into the position to score all these goals and the whole atmosphere here at the club that makes me feel happy and comfortable," Gabbiadini said.
"So, no, it's not easy because you have great players and great teams in the Premier League and it will not always be so easy, but, for now, I'm enjoying the moment."
Gabbiadini has already scored more league goals for Southampton than he managed for Napoli in Serie A this season.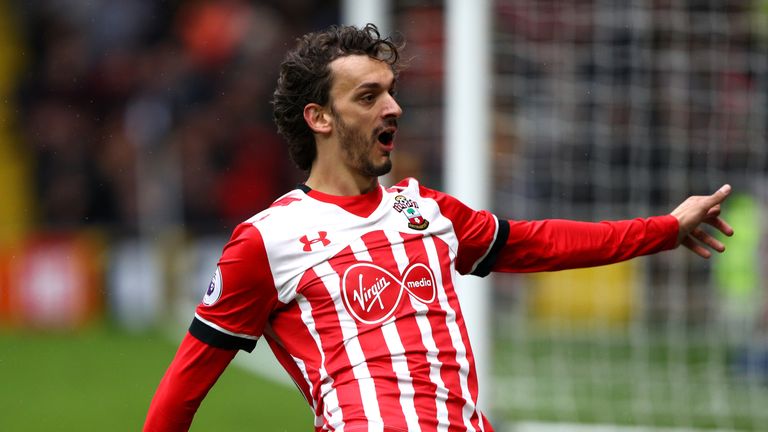 And the player thinks that is maybe due to the different tactical approaches seen in the two countries.
"It's a little different because in Italy the game is more tactical and calmer," Gabbiadini said.
"When you have the ball, you think, whereas here in England, when you have the ball, you always want to attack and score. If you are 3-0 up or 3-0 down, you always want to attack.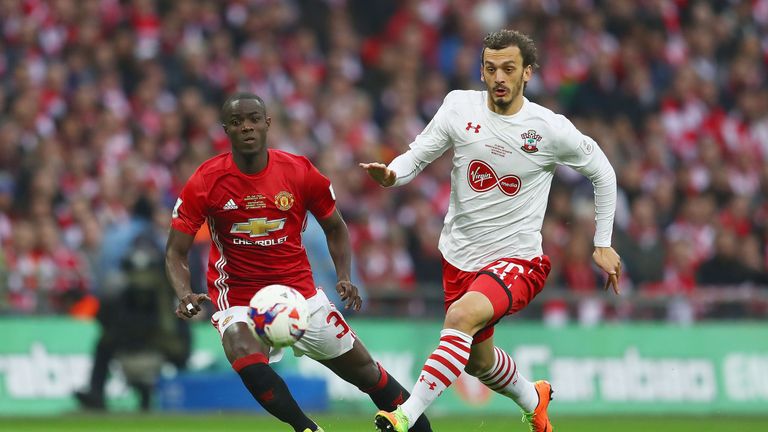 "In Italy, the style of play is calmer. You always try to keep the ball, pass it and wait for the right moment. Here, you always go for it and go for goal.
"I think it's great for a striker, but not so much for a defender because they are outnumbered or they don't have time to recover.
"For a striker, it's great because you have three or four through balls which makes it easier to score, although it's tougher because you have to go back and forth.
"But it's nicer for supporters, TV viewers, it's nicer for them because they see more goals, more action, so, I think it's more entertaining."
The Italian's eye for goal came from watching his older sister play while growing up, with Melania having since gone on to win 86 caps for her country.
And Gabbiadini credits Melania with being a major influence on his career.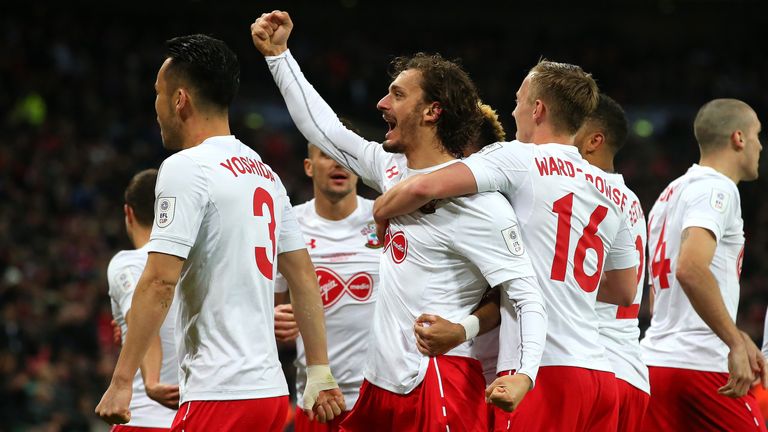 "She is one of the best players in Italy and it's amazing to have her as a sister," said Gabbiadini. "When I was little I always used to go with my parents to see her play and I wanted to become as good as her, so I can proudly say 'yes' [she has been an influence on his career]."
But when it comes to comparing the two, Manolo has no doubts about who is the better striker.
"She is now because she is the strongest player in Italy and I'm not, so she is," he said. "She has scored a lot of goals and I still haven't, so, yes, definitely her!"
Sky customers can now upgrade to Sky Sports and get 12 months for just £18 per month. Upgrade now!