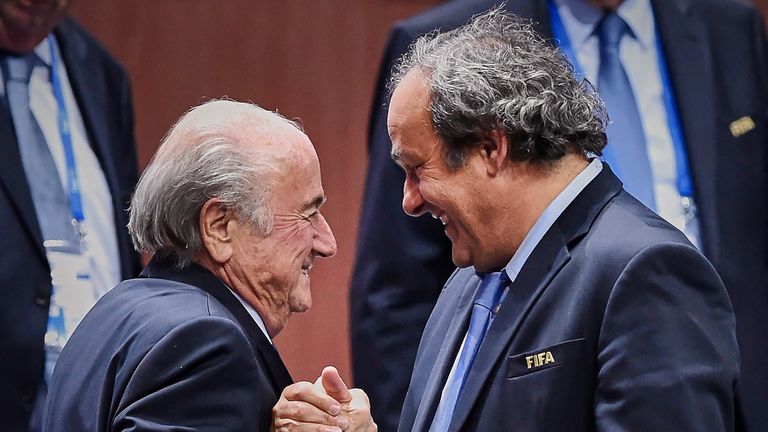 Michel Platini has turned on Sepp Blatter in an extraordinary interview with French newspaper Le Monde.
Both men were banned from football by FIFA after it emerged that Blatter had authorised a non-contract payment of £1.3m to Platini in 2011.
The revelation led to Blatter losing the FIFA presidency and Platini having to step down as UEFA president.
In his first interview since he was banned, Platini says he believes one of Blatter's closest advisers tipped off prosecutors about the disputed payment.
"I do not know what I have done wrong," Platini said. "Do not always believe what Blatter says. He will always tell you what you want to hear but he is an exceptional political animal.
"In the end, he tried to save his own skin. Blatter does not defend anyone else, he never defended me. He's the most selfish person I have seen in my life. He thought he would grow old and die and be buried at FIFA."
Platini traces the breakdown in the pair's relationship to May 2015's FIFA presidential election.
After seven FIFA officials were arrested on the eve of Blatter winning a fifth term as president, Platini announced "enough is enough" and threatened that UEFA nations could boycott the World Cup.
Blatter resigned within a week of the election as pressure continued to mount and Platini announced his intention to stand as a candidate to succeed him, before being banned along with Blatter once the payment was reported.
"He always said I would be his last scalp," Platini claimed. "I know he was fixated on me, to the end, ever since the 'enough is enough' comment on May 28, 2015, even without considering the jealousy he had for the footballer I was."
Grab a Sky Sports Month Pass for half price, and let us knock your sporting socks off with a blockbuster month of sport on NOW TV. All for just £16.99.