Real Madrid v Barcelona: Guillem Balague's top five Clasico moments
Last Updated: 21/04/17 6:53pm
Ahead of Sunday's meeting between Real Madrid and Barcelona at the Bernabeu, Sky Sports' Spanish football expert Guillem Balague picks his top five Clasico moments.
5: Four Clasicos in three weeks (April-May 2011)
Not one, two or even three, but FOUR Clasicos in less than three weeks took place during the 2010-11 season and they were all major games, with a league match, then the small matter of a Copa del Rey final and two Champions League semi-finals.
Real Madrid won just one of them, the Copa del Rey final, thanks to Cristiano Ronaldo's extra-time header. Sergio Ramos was so overwhelmed by the whole thing that he contrived to drop the trophy off the top of the victory bus they were travelling in to celebrate.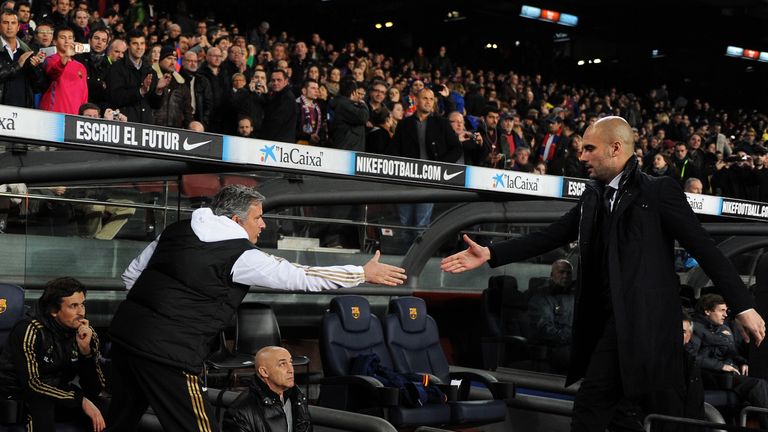 Madrid won that battle, but it was Barcelona who won the war. In the first game, a 1-1 draw with penalties from Lionel Messi and Ronaldo kept Barcelona eight points clear on their way to La Liga glory.
Madrid's Copa del Rey triumph came after that, but Barcelona won the first leg of their Champions League tie 2-0 at the Bernabeu after Pepe was sent off, with Messi's amazing second goal effectively killing the tie. Pedro then put Barcelona ahead in the second leg, with Marcelo's equaliser not enough for Real Madrid.
4. Barcelona humiliate Real 6-2 at their own ground (May 2009)
Barcelona effectively won the title at the Bernabeu with this destruction of Madrid which put them seven points clear with four games to play in May 2009. What is forgotten sometimes is that the game was sandwiched between the two Champions League semi-final matches against Chelsea which culminated in victory against Manchester United in Rome.
It put Pep Guardiola on his way to a treble and was possibly on a par, if not even greater, than the 5-0 demolition that would occur in November the following year at the Camp Nou.
3. Ronaldinho applauded at the Bernabeu (November 2005)
In November 2005, Barcelona beat Real Madrid 3-0 at the Bernabeu. The ovation for Ronaldinho came after he scored his second goal, but despite what has been said since, Ronaldinho was not the first Barca player to receive an ovation at the Bernabeu.
In fact, Real Madrid fans did the same for Diego Maradona, although on that occasion it was more of an anti-Madrid expression than a pro-player display.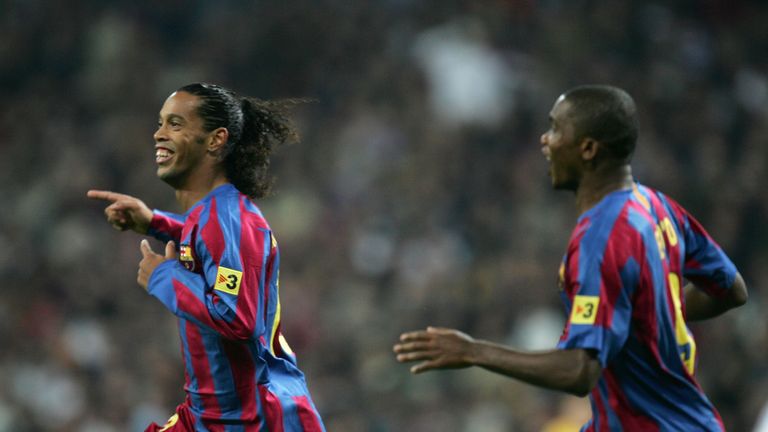 2. Mourinho's baptism of fire at the Camp Nou (November 2010)
In what was supposed to be Jose Mourinho's triumphant return to the Camp Nou, Barcelona humiliated Real Madrid 5-0 with possibly one of their greatest performances ever. Xavi later described it as the best game he had ever played in.
In actual fact, it could have been even more. What it did was set the tone for the relationship - or lack of it - that would simmer between Mourinho and Pep Guardiola for the rest of their time at the respective clubs.
1. The pig's head derby (November 2002)
I'm not choosing this game for the football because it was actually not a great game (it finished 0-0), but because of the worldwide notoriety it caused. Dubbed 'The Derby of Shame', it centred around Luis Figo's decision to leave Barcelona and join Real Madrid.
All manner of stuff was thrown at him, not least a pig's head (it was actually a baby pig - a cochonillo, in Spanish). Luis van Gaal accused Figo of provoking it because - doing what he always did - he had the audacity to go towards the Barcelona fans to take the corners.
Apparently walking towards a bottle that had been thrown at him "slowly consciously and deliberately" was an act of provocation. Unbelievable. Barcelona's board claimed it was a Madrid plot and said they had smuggled pig's head in. "In Catalonia we don't even eat suckling pig," said one director.
If we didn't know it already, this match showed that the Clasico is about much more than just football.