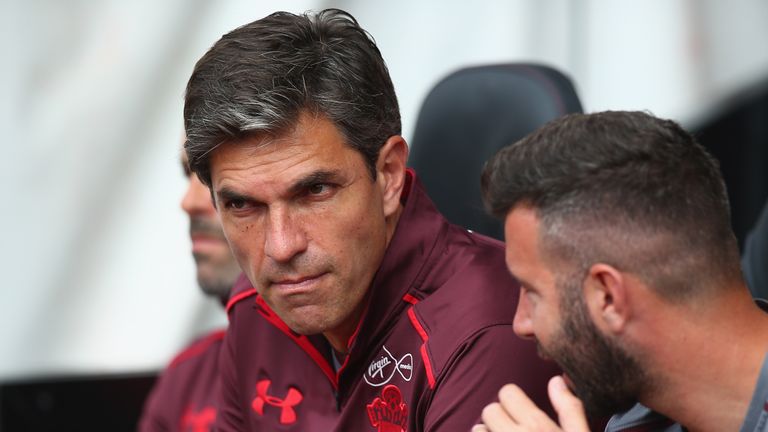 Southampton manager Mauricio Pellegrino remains hopeful of convincing Virgil van Dijk to stay at St Mary's.
Van Dijk missed Saints' goalless draw with Swansea in their first Premier League game of the season with a virus.
The Dutchman's absence further fuelled speculation linking him with the Southampton exit door, but Pellegrino insists there is a way for Van Dijk to reintegrate into Saints' side.
"When you are outside the team you have to be behind them, supporting them," said Pellegrino. "Hopefully he can change his point of view to be with us in the next few weeks. I've talked with him twice, and the club was clear with him.
"I think all of us at the club, the technical director, me as a manager, we know that Virgil is an important part of the club.
"But we need him in another way, not like the way he is right now."
New Saints boss Pellegrino has inherited the club's latest transfer tug-of-war, and conceded that such scenarios are no good for the game.
"I can't manage all the situations like some players being outside the team; it's not my responsibility," he added.
"But it's a pity because the people deserve to see the best players in the pitch. It happens and we have to keep going."
Pellegrino's comments came after his Southampton tenure kicked off with a stalemate against Swansea.
It prolonged the Saints' miserable home goal drought to six league games, despite the hosts having 29 shots on goal.
"We did everything to win the game," Pellegrino added. "Our football was effective. But we had to score.
"We created chances and played really well, especially in the second half controlling the ball and reducing the opponent to counter attacks.
"We were playing well but sometimes in football you create chances but are not precise enough to score goals.
"As a manager you work out how to create spaces and chances behind defences, in front of them, on the overlap and in wide areas, but to have the accuracy to score a goal is something that is difficult to work on.