Will Everton bridge the gap? Examining their top-six task
Last Updated: 21/08/17 6:01pm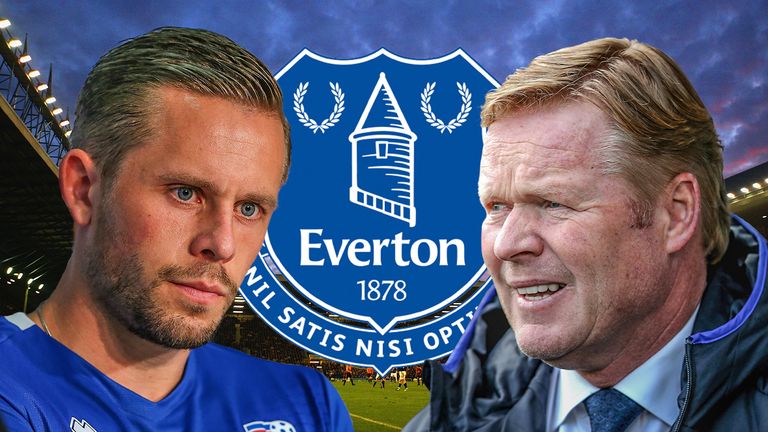 Everton hope to bridge the gap to the top six but can they pull it off? A look at the task ahead.
Everton kicked off the season with a 1-0 win over Stoke at Goodison Park, but face a stiffer test on Monday Night Football when they travel to the Etihad Stadium to face Premier League title favourites Manchester City.
With a trip to champions Chelsea to follow before the international break, Ronald Koeman faces an early examination of his summer work. Are Everton really better prepared for a tilt at the top six or will the loss of Romelu Lukaku scupper their plans?
What is Everton's plan?
Billionaire Farhad Moshiri was announced as Everton's major shareholder in February 2016 and has since helped to fund considerable investment with plans to relocate the club to a new stadium. The spending has been matched by a mood of optimism with Moshiri purposefully spelling out his ambitions at the AGM in January.
"It's not enough to say you are a special club and a great club," he said. "We don't want to be a museum. We need to be competitive and win. The gold standard is the Premier League position, not the FA Cup, and I love the FA Cup. You need to do well in the league. That is where Everton's competitive edge will be measured and needs to be totally focused."
He added: "We have a position but we do not have all the time in the world. We need to establish ourselves and we have a window to do it. Bill [Kenwright] and previous managers kept the club close to the elite for many years but now we need to look at a sustainable base to be among the elite. It takes time but we are committed. That's why we are here."
Moshiri spoke of the six team mini-league that Everton are aiming to break into and the talk of "a window" in which to make this happen suggests that it is no vague and distant hope for the club but a deliberate target. Koeman will have support and the stadium move brings the potential to make Everton's rise sustainable. Grand plans then for the grand old team.
But what about Lukaku?
The problem is that this sense of urgency was shared by their star striker. Grand plans are not enough for players in their prime who are seeking silverware and Champions League football. Last season, Lukaku became the first Everton player to score 20 goals in a league campaign since Gary Lineker over 30 year ago and now they must cope without him.
Older supporters might be encouraged by the fact that Everton lost Lineker in 1986 and went on to win the title. However, on the four occasions in the Premier League era that a team has sold a man who scored 25 goals or more in the previous season, it has not gone so well. Each time, the team scored fewer goals and finished lower in the table.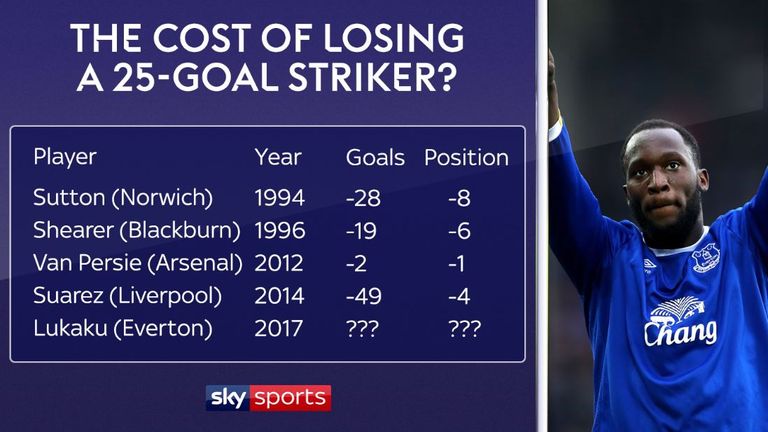 Norwich were even relegated after selling Chris Sutton, scoring 28 goals fewer that the previous year. Blackburn dropped six places after selling Alan Shearer, while Arsenal got away with a one-place drop in the table after losing Robin van Persie. Liverpool suffered, dropping four places and scoring 49 fewer goals without Luis Suarez.
Given that Lukaku scored over 40 per cent of Everton's goals last season, it is a big hole to fill - particularly when Everton need to not just match their output but improve it. Their total of 62 goals was 16 fewer than any of the teams in the top four last season. The challenge is to replace Lukaku's output... and then some.
Is there a solution?
Bodies will help. Tottenham's 2013 sale of Gareth Bale was styled as 'selling Elvis to buy the Beatles' and while the club was derided as their new band of acquisitions struggled to settle, things have gone rather better since then. In fact, the £11.5m signing of Christian Eriksen is now viewed as one of the great Premier League bargains of recent seasons.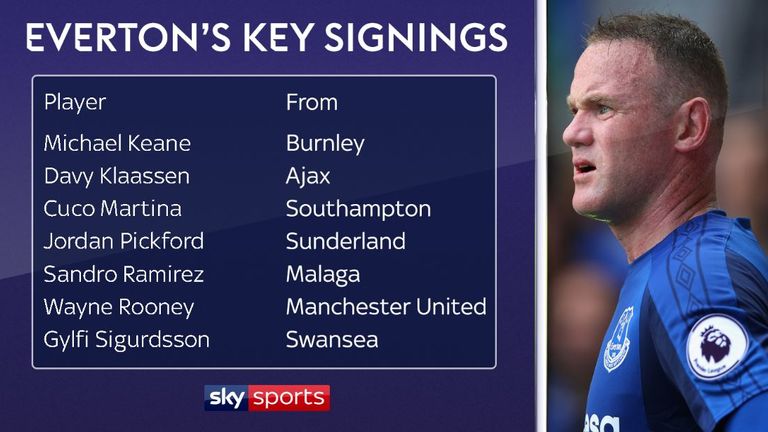 Everton will be hoping that their summer business can be the catalyst for a similar upturn in fortunes. The signings of Jordan Pickford and Michael Keane should provide long-term value, while Wayne Rooney and Gylfi Sigurdsson will be expected to be instant hits. Davy Klaassen and Sandro Ramirez have pedigree and potential.
Most importantly, Koeman has options at his disposal and is entitled to believe that Everton's squad is now robust enough to cope with injuries or loss of form. Squad depth also provides the opportunity for tactical flexibility - as seen on the opening weekend against Stoke when they switched from a back-three to a back-four during the game.
What is still missing?
There is a plethora of attacking midfield talent at Everton now with a good blend between youthful exuberance and experience. But the nagging suspicion remains that for all the quality that has been added to the squad, Lukaku's goals will still be missed. "I actually think a centre-forward is more important for Everton," says Sky Sports pundit Jamie Carragher.
"They seem to lack someone up there. Wayne Rooney cannot be Everton's centre-forward all season. At times he will find himself in the No 10 position, on the right, on the left and dipping in and out of different positions. He is not going to score 25 or 30 goals like he did at Manchester United at times.
They seem to lack someone up there. Wayne Rooney cannot be Everton's centre-forward all season.
Jamie Carragher
"He cannot play there every week, Ramirez is a young player who is new to the league. So that's what they are crying out for. Obviously, they are not going to get someone like Romelu Lukaku, that's very difficult. But you could imagine Wayne Rooney in that deeper position feeding someone else?"
"He was head and shoulders above everyone on the pitch [against Stoke]. He was finding himself between the lines. You had got Ramirez running and Calvert-Lewin running. That's what Wayne Rooney needs and that's what this Everton team needs, to be honest. People run because they know the quality is going to come."
So what happens next?
Koeman is aware of the issue, speaking about it even after Sigurdssson's signing. "We still need to sign a striker," he says. "Everyone knows that we lost Romelu Lukaku. We brought in Wayne Rooney, Sandro Ramirez and now Gylfi, and maybe they can share the goals around more than happened last season, but we still need another one to play the No 9."
Unfortunately, the Premier League fixture list has not been kind. After the trip to Manchester City on Monday, Everton must travel to Hajduk Split before facing a third consecutive away game against Chelsea. After the international break, they host Tottenham before being reunited with Lukaku and Manchester United at Old Trafford.
It is a challenging schedule - one that could curtail optimism significantly if things do not go Koeman's way. But it also presents an opportunity. The chance for Everton to show that they are both willing and able to bridge the gap. Lukaku has already made his presence felt in Manchester. On Monday Night Football, can his old team do the same?