Cristiano Ronaldo's final appeal against ban for pushing referee ends in failure
By Dev Trehan
Last Updated: 23/08/17 10:18am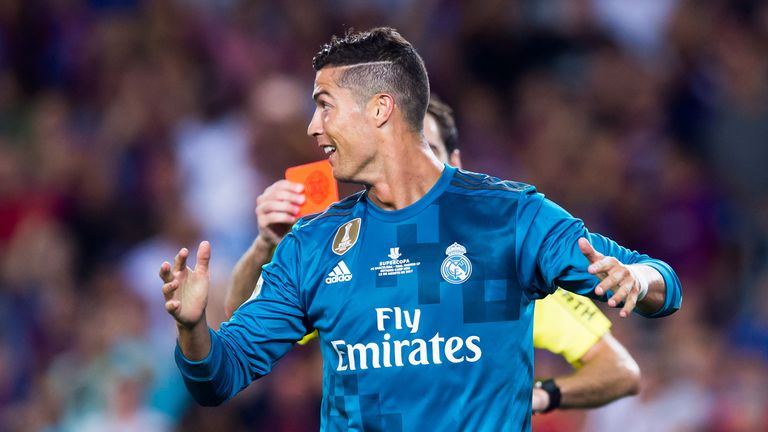 Cristiano Ronaldo called the decision to uphold his five-game ban "incomprehensible" after losing the final appeal for pushing a referee in the Spanish Super Cup.
Ronaldo received an initial one-match suspension for his two yellow cards in the 3-1 win over Barcelona in the first leg of the Spanish Super Cup final, which was extended by an additional four matches for shoving referee Ricardo de Burgos Bengoetxea when shown a red card.
After last week seeing his ban upheld by the Spanish Football Federation, Real Madrid and Ronaldo took their case to Spain's administrative sports court (TAD), who rejected the appeal on Tuesday.
"Another incomprehensible decision. From injustice to injustice, they will never bring me down," Ronaldo posted to his 108 million followers on Instagram, after learning of the final appeal decision.
Ronaldo had last week blasted his treatment by the Spanish football federation as "persecution", having been shown a yellow card for his goal celebration after coming off the bench to make it 2-1, before a second booking for diving.
"Impossible to be immune to this situation, 5 games!!" Ronaldo said after his first appeal was dismissed by the federation last week.
"It seems to me exaggerated and ridiculous, this is called persecution!"
Ronaldo has already served two games of his suspension as Madrid completed a 5-1 aggregate win over Barcelona in the Super Cup second leg and as Real opened their La Liga campaign with a 3-0 win at Deportivo la Coruna.
Real will also be without their all-time top scorer for La Liga matches at home to Valencia and Levante and away at Real Sociedad.