Diego Costa, Lionel Messi, Andres Iniesta: Guillem Balague's five things from La Liga
Last Updated: 25/09/17 4:37pm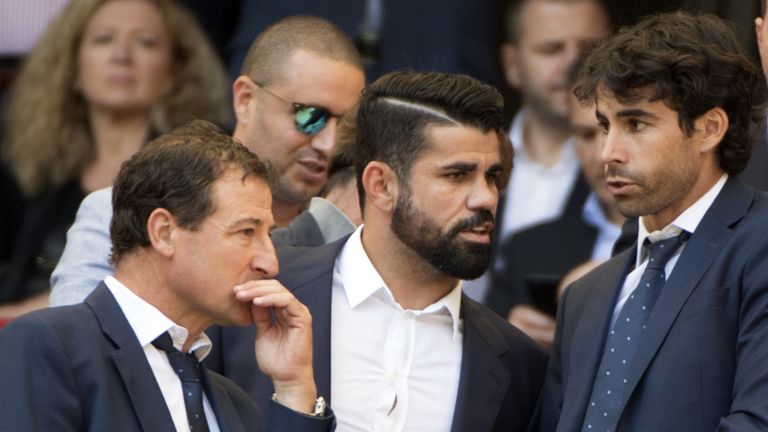 Guillem Balague picks out five key talking points from La Liga, including Diego Costa's return to Atletico Madrid and Pablo Maffeo's man-marking mission on Lionel Messi...
1 - Costa back but expect departures
The first thing we learned this week concerned matters off the pitch, namely Diego Costa's return to Atletico Madrid and his celebration of the goals in the Wanda Metropolitano with a lot of happiness. He is not training with the side yet, similarly to when Felipe Luis returned to the club from Chelsea, because there are still some documents to be signed.
Atletico hope this won't take a whole week like it did with Luis, but, in any case, Costa has passed a medical and everything is OK. That means Atleti will try and sell either Luciano Vietto or Kevin Gameiro in January because Vitolo is also set to move to Atletico from his loan at Las Palmas.
2 - Messi man-marked by Maffeo
As usual, there has been a lot of talk in Spain about tactics from the weekend but, specifically, about the man marking Lionel Messi was subjected to by Pablo Maffeo in Barcelona's 3-0 win at Girona. What was clever about it was that Messi identified what was happening from the beginning and even asked Maffeo 'are you going to be following me all day?' Pablo said 'yes, that's right'. So in the first half an hour of the game, Messi moved himself into positions were Maffeo was uncomfortable or even in offside positions. Messi's first four offsides happened in the first half an hour against Girona - he was not caught offside in any of the previous five league games.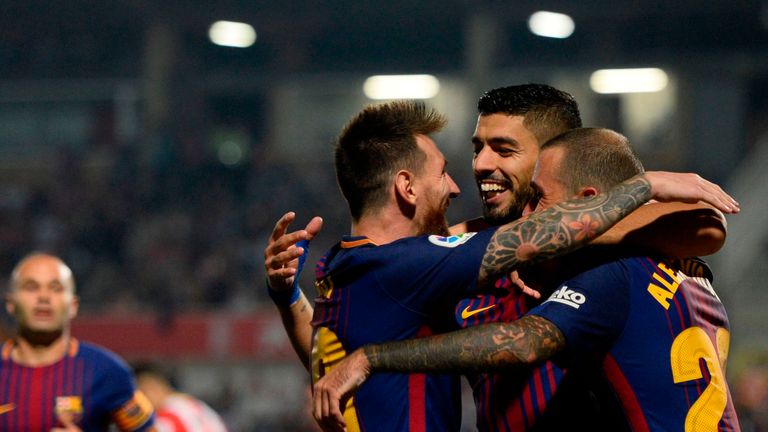 Messi was trying to put Maffeo off by moving around with intelligence, even though he had to improve on his timing! What Machin wanted was for Barcelona's 10 worst players to play against the best 10 from Girona, in other words, cancelling out Messi, and in a way it worked. Messi was involved in the build-up to some of the offensive moves but he only had two shots on goal having scored nine goals in the past five games. So Ernesto Valverde will have to work on ways to counteract the man marking of Messi, something he tried himself while in charge of Athletic Bilbao. Real Madrid midfielder Mateo Kovacic had the same job in the Supercopa, so it's something clubs will continue trying.
What was interesting about Maffeo's attempt to stop Messi was the conversations they had during the game! Messi asked him how old he was, if he was on loan from Manchester City and what life was like in Manchester, so the 78 minutes Maffeo was marking Messi were certainly full of chatting -there was plenty of time for that. It is worth noting there were a lot of chanting regarding Catalan independence at the game, where the president of the Catalan government was present. Citizens will take to the polls for a referendum on independence on October 1.
3 - The return of Iniesta
Andres Iniesta is back! Valverde is using different formations but they are all working at the moment so he is not being accused of tinkering with the squad too much. With Sergio Busquets and Gerard Pique on the bench, and with Nelson Semedo and Gerard Deulofeu out completely, Valverde tried something different with Sergi Roberto at right-back and Aleix Vidal as a right winger, and had Paulinho and Ivan Rakitic as holding midfielders.
There are no complaints about the formations because the style has been kept, and the style has been kept because Iniesta is at the centre of it. He has been in the line-up for the last six games, and seven of all nine games this season - the two missing were because of injury. Iniesta has already become the best distributor of possession this season in terms of good passes. If the football goes through Iniesta and Messi, Barcelona are more recognisable and it doesn't matter what formation they play.
4 - Ceballos lifts Real mood
There is more detail emerging on what I think is causing Real Madrid's lack of effectiveness up front.
Luka Modric and Gareth Bale were on the bench against Alaves because Zinedine Zidane keeps on rotating. He gave Dani Ceballos his first start, with Toni Kroos, Marcelo, Karim Benzema, Kovacic and Jesus Vallejo injured. The game against Alaves came on the back of the defeat to Real Betis, with Zidane admitting after that work still needs to be done to get the best version.
Ceballos scored two goals but, interestingly, he became the 21st player Zidane has fielded from the start this season, evidence that the Frenchman gives players opportunities to show how good they are. Ceballos is finally at the level of everyone else physically, and you could see that by the way he pressed, which meant he had a lot of influence defensively. He kept the ball, he 92 per cent of good passes, recovered the ball eight times and showed personality.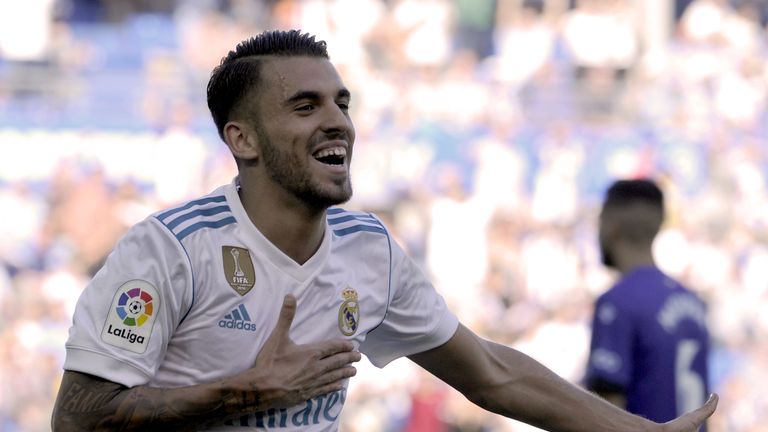 And that proved to be enough to beat an Alaves side who has their new head coach, Gianni De Biasi, the former Albania coach, watching from the stands. He has already taken charge of training. At Villarreal, Javi Calleja replaces Fran Escriba permanently, who was sacked on Monday morning.
5 - Lightning La Liga
Finally, modern football is here for all to see and it has, of course, arrived in La Liga. What I'm talking about is the pace in which teams attack, specifically the break-neck speed shown by Atletico Madrid and Valencia, but also practised by others, such as Villarreal, Getafe, Espanyol, etc. Valencia had Rodrigo, Goncalo Guedes - who had a fantastic game - Simone Zaza and Carlos Soler on the field against Real Sociedad doing everything 100 miles and hour, counter-attacking with pace as soon as they had the ball.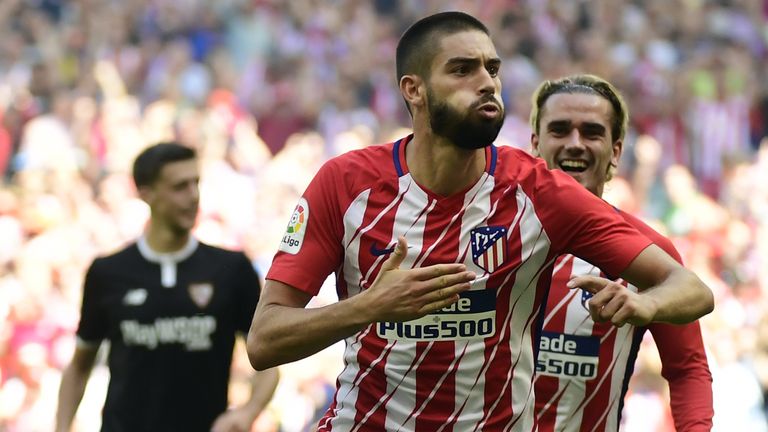 Atletico did the same against Sevilla, with Vietto, Yannick Carrasco and Antoine Griezmann. Part of that directness is built on good full-backs, and a number had a strong weekend in La Liga. There was Lucas at Atleti, even though he is a centre-back mostly, Nacho Vidal at Valencia and, especially, Real Sociedad's Mikel Oyarzabal, who started his career as a left-back but played on either wing against Valencia, and even as a striker and scored. He has a lot of potential and was even wanted by Real Madrid so it's worth keeping an eye on him as the season goes on.
Guillem answers YOUR questions
Do you think Atletico Madrid will be right up there with the "other two" this season or will they be fighting Sevilla again? (@CallumBradke)
GUILLEM SAYS: I'm completely convinced Atletico Madrid will be there this season. Let's see what happens with the return of Diego Costa and Vitolo because Vitolo will have the chance to play before January, despite being out with injury now, but Costa hasn't for a while so we will see whether they can have an impact right away.
But, meanwhile, with Thomas Partey working hard to become a regular in midfield, and with Koke and Saul Niguez increasing their level, plus the strong defensive performances and Griezmann about to hit his best form for a while, the team can still compete without the January arrivals and will be there come the final month of the season.
Have Barcelona's off-field problems marred their brilliant start to the season? (TomNewland08)
GUILLEM SAYS: It's just like two Barcelona's, it has always been like that on and off the pitch. Even during the success of Pep Guardiola, there were a lot of problems off the pitch. But Barca seem to put it all to one side, and the work of Valverde is fantastic, he doesn't give a huge amount of instruction but when he does he gets it absolutely spot on.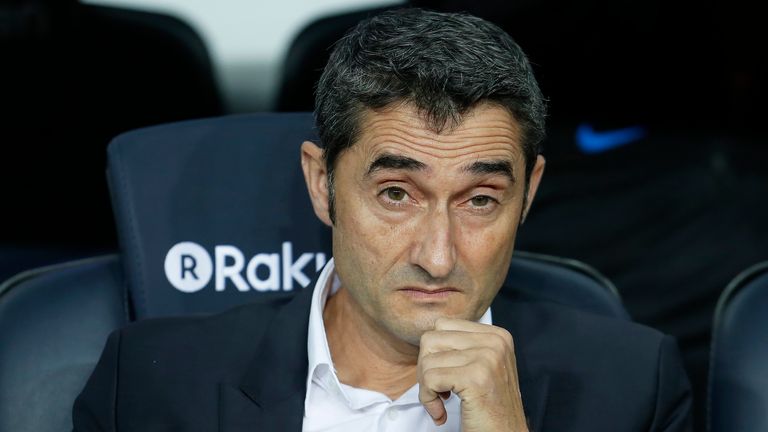 He talks to the players as adults and they really enjoy everything that's coming to them. What's more, despite my initial doubts, the second string of players - Deulofeu, Denis Suarez, Paulinho, Semedo, Sergi, Vidal - are coming to the fore, and that's crucial for Barcelona.
Is Diego Costa's signing from Chelsea an indication Antoine Griezmann will leave Atletico at the end of the season? (@SuperPat)
GUILLEM SAYS: We say it every week. Yes, Griezmann will play with the idea of leaving but do not discount Atletico Madrid being part of that conversation over his future. There will be a saga until he decides what he wants to do in the summer, that's for sure.
Reports in Spain claim Edinson Cavani has rejected €1m to let Neymar take penalties. Any truth? (@PenaltyPenalty)
GUILLEM SAYS: I've asked around and yes, there is conflict at PSG. Edinson Cavani was in line to receive €1m if he was the top scorer at PSG, so the owners decided to pay him in advance, if you like, so Neymar could do what he wanted. The problem with Neymar is that when he was at Barcelona he had to hold some of his instincts - the things that made him less professional - because he was surrounded by a lot of professionals.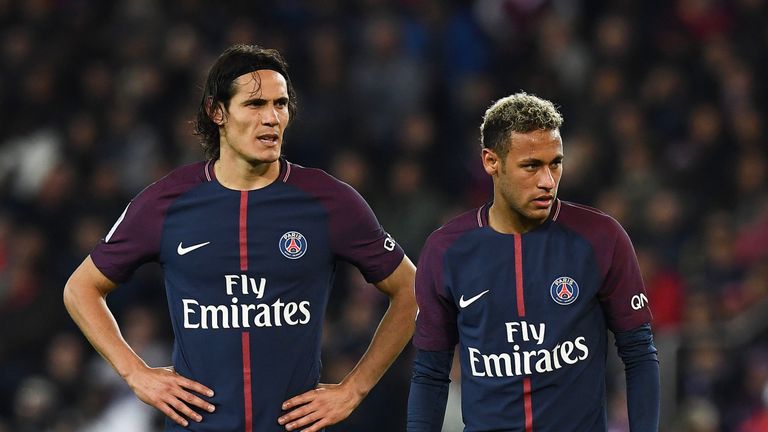 At PSG he was brought in as the superstar before he won that right within the squad, so balancing that out will be difficult. Training has sometimes been delayed because of him, he's been seen in London partying and he only appears to be happy with his friends.
He runs the risk of thinking he only needs to showboat occasionally on the pitch. If he doesn't change he may lose some of what made him good at Barcelona. He's got time to react but he should be less childish and more professional to be the best he can be.