Portsmouth need time to settle in Sky Bet League One, says Brett Pitman
By Simeon Gholam
Last Updated: 06/10/17 3:24pm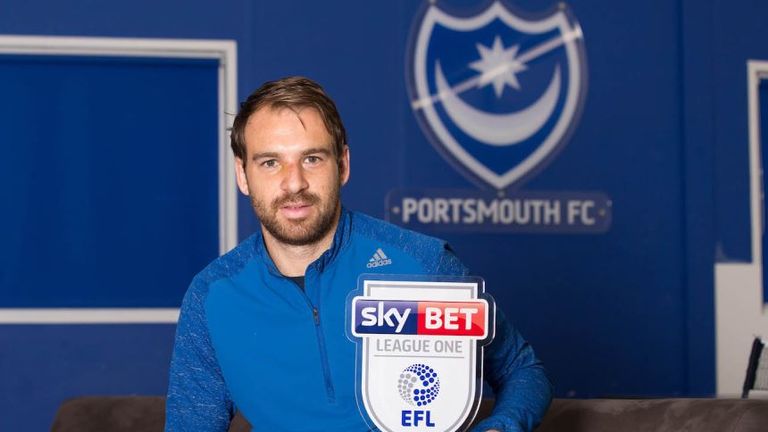 Portsmouth striker Brett Pitman says the club need some time to settle in Sky Bet League One following their promotion in the summer.
The club have got off to a mixed start to life in the third tier, sitting 15th in the table heading into the weekend. Pompey travel to struggling Gillingham on Sunday, with the clash live on Sky Sports Football.
Pitman has had an outstanding start to life in League One, netting nine times so far. Unfortunately for Portsmouth, though, he currently finds himself out injured having had two operations in as many days earlier in the week. With the latter knee surgery likely to keep the 29-year-old out for up to a month.
"I woke up from the nose operation [on Monday] and the knee specialist came in and said we'll operate on you tomorrow, so it wasn't the best news to wake up to! It's been a long week," he told Sky Sports News.
"The club is obviously used to playing at a higher level than League One, and definitely League Two, but there's been a change of management and style of play and these things take time.
"We're a young team on the whole and I think it'll take a little time to settle down [in League One]. But when the manager gets what he wants and gets his points across about how he wants to play, we'll be a lot better for it."
Pitman, however, has had an outstanding start to life in League One, netting nine times so far. Six of those goals came in September, which was enough to secure him the Sky Bet Player of the Month award.
Pitman struck six times in seven games in September for Portsmouth, a tally which saw him win the Sky Bet League One Player of the Month award. He insists, however, that there's plenty more to come from him for the club.
"I'm delighted to receive this award and with the start I have made to my Pompey career," he said. "But it is just a start and I know I need to keep scoring goals once I have recovered from my injury. I also need to thank my team-mates for providing me with so many chances to find the net."
Pitman's manager Kenny Jackett, meanwhile, admits it's disappointing to lose Pitman for the new few weeks, but says he's happy that he's getting the problem dealt with as quickly as possible.
"Of course [it's a blow] but he's been feeling his knee for a week or two so it's no surprise to me really," Jackett told Sky Sports News. "He's made a good goalscoring start, which is vital, but I think moving early on it is a good thing and he'll be back. It's best to get it all out the way quickly."
And of Portsmouth's mixed start to the season, Jackett insists there's plenty of room for improvement, but knows the leap from League Two to League One is not an easy one to make.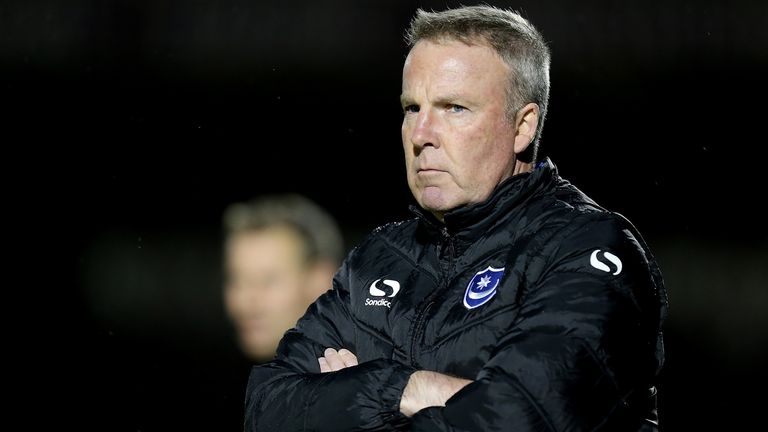 Pompey, who finished as champions last season, are currently highest of the three automatically-promoted sides, with Doncaster (19th) and Plymouth (24th) below them. Only play-off winners Blackpool, currently ninth, are higher.
"We want to do better, but it's a competitive division," he said. "We haven't drawn many because we've gone for the wins and where we are now, five points off the play-off places and the relegation zone, is about right for us. But we know where we need to improve.
"There is obviously [a gulf], you can see that from the promoted teams, but it's one that Portsmouth are capable of matching. But it's one thing saying it and another doing it. Every single game and every single week you have to earn the points you get because none of them come easy.
"But it's a club with the potential and ambition to do it, and that's where I fit in."
Don't miss Portsmouth's trip to Gillingham on Saturday in Sky Bet League One, live on Sky Sports Football from 2.15pm